Bleaching your teeth for a better you
Have you ever noticed that people with whiter teeth tend to have great smiles? Their personalities seem more prominent and attractive. That's because they smile and laugh often, encouraging an atmosphere that is fun to be around. These people are able to do so because they are confident in their bright, brilliant smiles. Do you want to know how bleaching your teeth can help improve your charisma and personality? Let's take a look.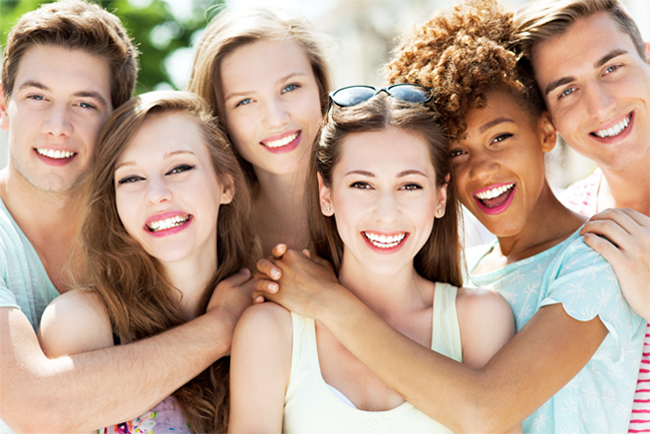 Bright, beautiful smiles are designed to show off clean, white teeth. These great smiles are the key to charming anyone off their feet. A great smile also reflects on the fact that we pay attention to our health, especially our oral health, which would be considered an attractive characteristic to many.
Whiter teeth always helps boost our self-confidence because if we have prominent yellow stains on our teeth, our smiles will show our lack of self-confidence. The process of bleaching your teeth can help eliminate this problem so you can show off your smile with charm and charisma.
Clean, white teeth make us look younger. This may sound peculiar, but bright, healthy smiles can deduct years off your actual age.
Great smiles aren't merely important in social circles, but also make a difference in your professional life as well. We've said over and over again that bright, healthy smiles boost self-confidence. This factor is just as important to your career. If you're confident when going into battle,

you've already won half of the war. Bleaching your teeth can be another tool which is considered an investment in your career as well.

First impressions make lasting impressions. Don't risk that one opportunity to impress by having yellow stained teeth. Bleach whitening can help ensure that your first impressions leave lasting memorable impressions.
White teeth lead to happy smiles. When you don't have to worry about teeth stains and are confident that you have a great smile, you will smile more frequently, and smile with sincere happiness. Happiness, no doubt, is contagious which means you will appear attractive to those around you. You will also be happy and see the world in a better light.
Once you've achieved a clean, healthy smile, you'll want to keep that smile with you always. This means that it will encourage you to continue to take good care of your oral health and your overall health as well.
White, healthy smiles encourage friendliness. Smiling means you're open to meeting new people, making new friends and are able to get along with others easily. Once you've obtained that great smile, you'll smile more often and find yourself surrounded by other great smiles too.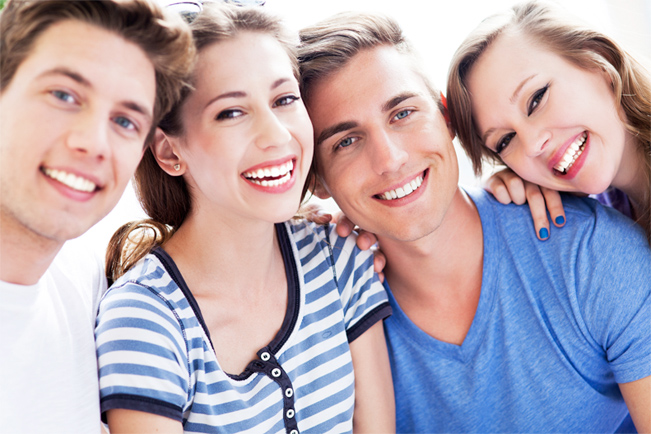 To meet the needs of everyone who desires white, shiny teeth, Sparkle has researched and developed the Sparkle Whitening Kit, a new innovation in teeth whitening that will show noticeably whitened teeth after merely the first use. It also helps reduce the accumulation of tartar in the crevices of your teeth.
SPARKLE WHITENING KIT
Proven to whiten teeth within 20 minutes

With the power of Micro White, an innovation exclusive to Sparkle, the whitening kit has special tiny particles which are gradually released directly into the tooth coating and help break down stubborn stains caused by tea and coffee. It will also help brighten the tooth's natural enamel, but is gentle enough to not damage your teeth or gums.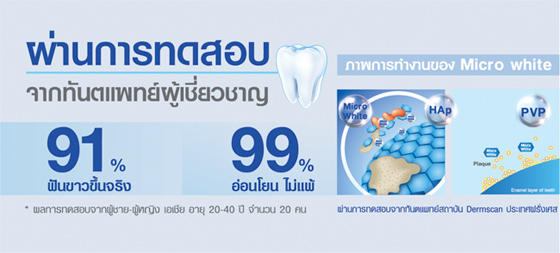 Tested by dental specialists
91% of users say the whitening results are real
99% of users say the product is gentle and hypoallergenic
*Test results from 20 male and female Asians aged between 20 to 40 years
A picture of how Micro White works
Tested by the Dermscan Asia Institute in France
In addition to Micro White, the kit also contains HAp (Hydroxy Apatite), which helps restore the natural balance of minerals to our teeth coating. It also helps with teeth sensitivity and helps reverse damage to tooth enamel. The Sparkle Whitening Kit is perfect for anyone who wants to have natural looking white teeth, without going through the trouble of visiting dental clinics or expensive bleaching processes.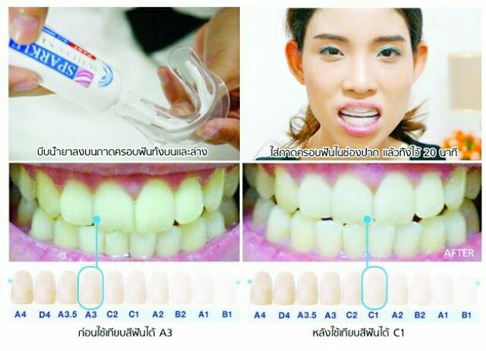 It's easy! After just a few steps and a little bit of time, you can have cleaner, whiter teeth to show off.
*Results vary for each individual