Sparkle Coffee & Tea Drinkers' Whitening Toothpaste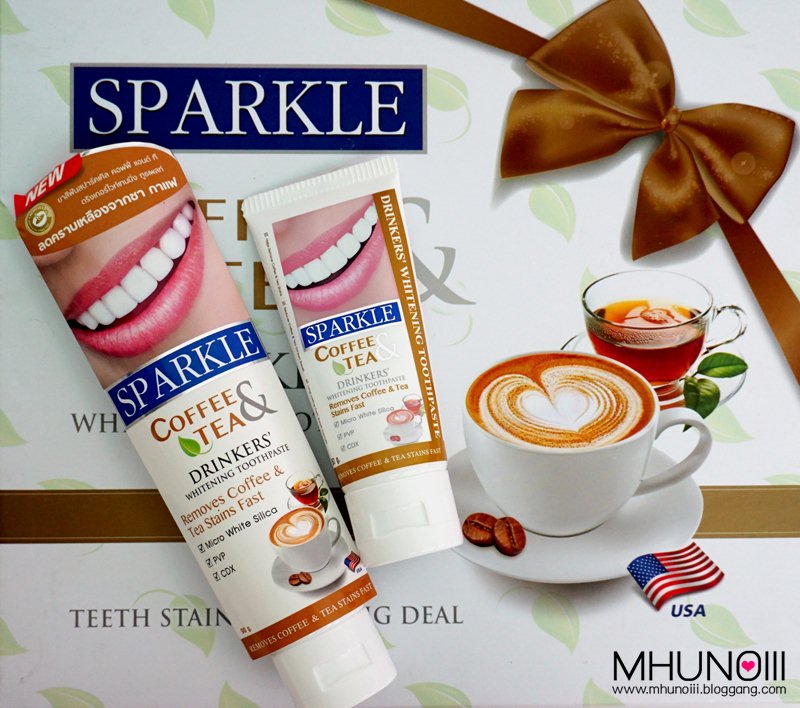 Attention to all you coffee lovers out there! Here's a review on a hot item that
you don't want to miss out on…and that is the
Sparkle Coffee & Tea Drinkers' Whitening Toothpaste!
-------------------------------------------------------------------------------------------
Before we get to the product review, let's first re-familiarize ourselves with the most common problems we face when it comes to oral health.
The main problem for tea and coffee lovers are the yellowish stains left behind when you repeatedly drink coffee or tea.
This is because these drinks contain a certain level of acidity because both tea and coffee contain chemical compounds called tannins. Tannins are naturally occurring organic substances found in plants and are the major cause of the yellowish teeth stains left after drinking substances which contain the compound.
Aside from stubborn stains left on our teeth, coffee also tends to leave a particular odor which causes bad breath throughout the day. We could give up drinking tea and coffee all together, but let's try to find something that could help us out first.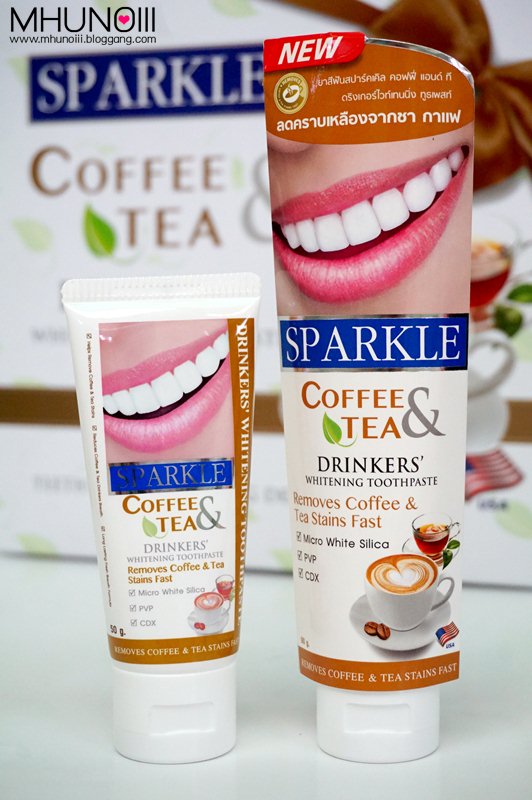 Sparkle Coffee & Tea Drinkers'
Whitening Toothpaste

Available in 2 sizes:

50 grams of product priced at 85 Baht
90 grams of product priced at 135 Baht
You can buy the product at: Tesco, Big C, Watson's, Home Fresh Mart, Boots, Top's Supermarkets, leading department stores and dental clinics nationwide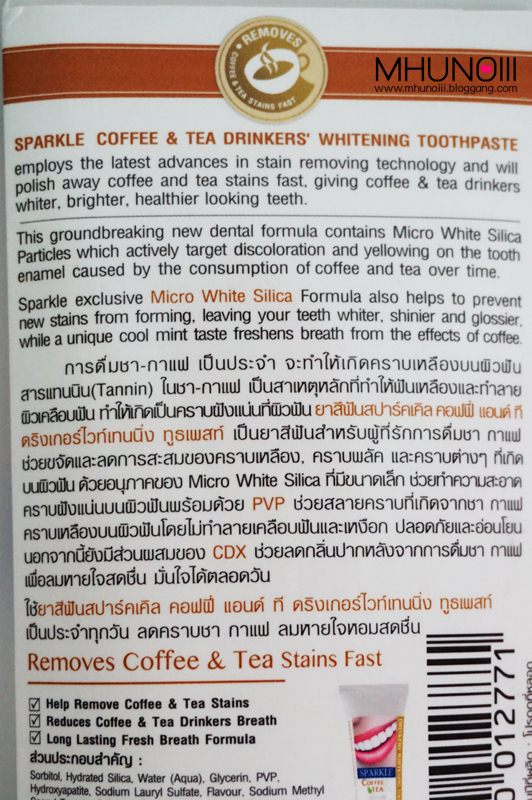 Product Claims
It's a toothpaste specially designed for tea and coffee lovers who tackle problems of yellowish teeth stains, bad breath, and plaque.
With the effectiveness of Micro White Silica, which are small particles which help break down stubborn stains on the coating of your teeth. The toothpaste also has PVP, which is strong enough to remove such stains, but safe and gentle enough that it will not damage your tooth's natural enamel.
That's not all. The toothpaste also contains a mixture of CDX, which helps reduce bad breath that results from drinking tea and coffee. All this to make sure your breath is minty fresh all day long.

The product has been tested by dental specialists from the Dermscan Asia Institute in France. Results show that users did report whiter teeth and lesser stains from tea and coffee.
From a total number of 20 male and female Asian participants aged between 18 to 37 who regularly drink tea or coffee, research found that
90% reported whiter teeth after using the product for two weeks

while 19 out of 20 people said they were satisfied with the product for helping reduce bad breath



*Results vary for each individual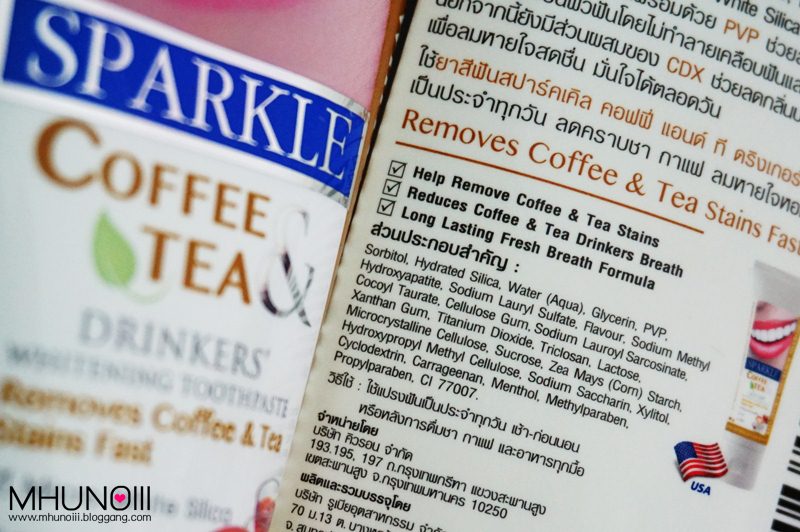 In terms of the ingredients, you won't see any fluoride in this product. This is something I personally like because I am allergic to fluoride. When I use it, it burns my mouth. My lips will peel endlessly. There was a time when I kept on using products with fluoride to a point where I started developing blisters on my lips. If anyone experiences something similar, you should try changing toothpastes and see if the conditions improve.
Some extra information for you. If you read the results of various studies about the use of fluoride in toothpastes, you'll find that many brands use sodium fluoride in their products. This is because the costs of raw materials is much cheaper. However, it is different from calcium fluoride which can be naturally found in the foundation of our teeth. If we frequently swallow a lot of the sodium fluoride, it may accumulate in our bodies and cause adverse effects. In the long term, our teeth will develop small black stains which look like freckles or dark discolorations.
Of course, this varies from person to person. Since I am allergic to the substance, I tend to be extra careful. However, I'm able to use ALL of Sparkle's toothpastes, in every formula.
The main ingredients claimed in this product include
Micro White Silica , PVP, and CDX.
I'm going to make an educated guess and say that
Micro White Silica is simply hydrated silica.
As for PVP, it is considered a whitening substance, helping to break down and reduce the appearance of yellow stains and plaque. The main attribute of this component is the size of its particles, which are extra small and are able to effectively clean teeth, but will not damage the tooth's natural enamel and gums.
The last main ingredient is CDX, which is a component of Cyclodextrin . It lessens the emanation of odors, therefore reducing the occurrence of bad breath. This coupled with menthol will encourage fresh, minty breath immediately after using the toothpaste.

*Results vary for each individual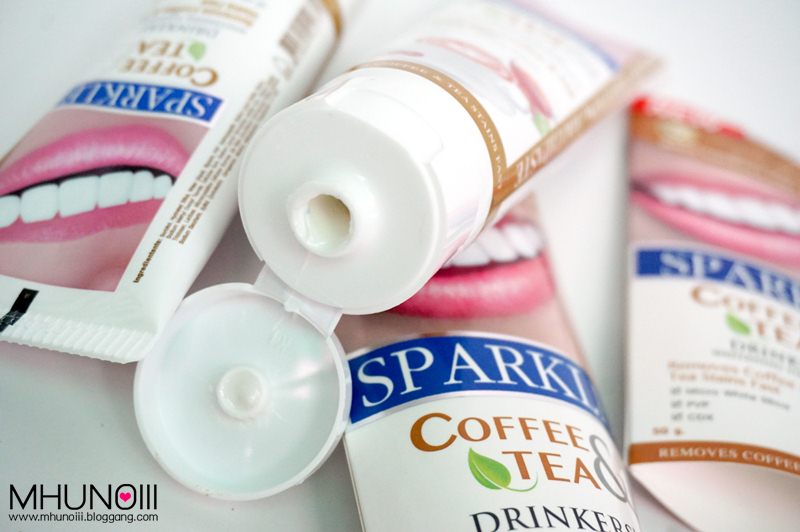 The paste comes in a plastic tube which can be cut in half to access the remaining product once
the user is about to finish off the tube.
Another good factor about the packaging is the flip cap. I prefer it much more than
the twist on/off caps which less convenient to use.

*Results vary for each individual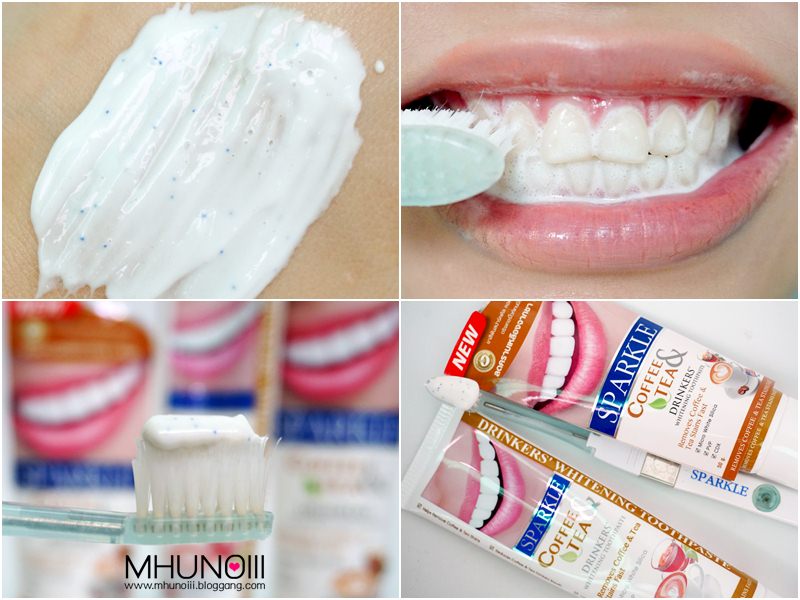 Material Characteristics
The toothpaste itself is a smooth, white paste mixed with tiny blue beads. The beads are mixed in throughout the tube. Once you start brushing, the beads will slightly melt into the paste and will not damage your teeth. However, they will leave a nice menthol smell to your breath.
Once the brushing has started, an appropriate amount of foam will form. The toothpaste tastes slightly sweet, but one distinct factor will be the coolness from the menthol. However, the coolness is not overwhelming and won't burn your mouth.
I like this feeling. I really don't care too much for strong tasting, strong smelling toothpaste because my mouth burns every time I use them.
And I'm going to tell you a secret. If anyone of you suffer from acne or blemishes in your chin area, no matter what the main cause is, menthol is something that can always go in and exacerbate that problem.
But if you really like the cooling attributes of toothpaste, try one that doesn't have too much menthol in it. It may help with your acne problems.

*Results vary for each individual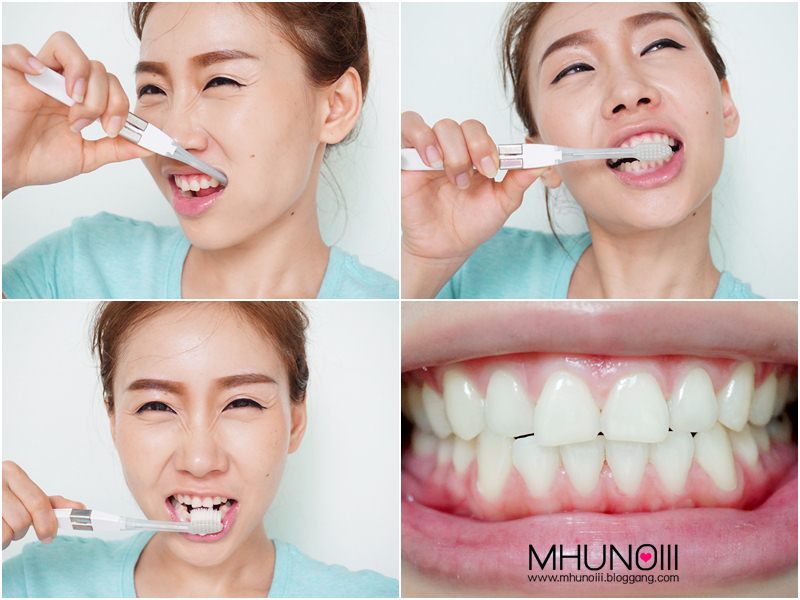 Dentists recommend that we spend at least two minutes every time we brush our teeth. Make sure to get into all those smaller areas and pay particular attention to the crowns of your teeth. This will help improve the health of your gums, keeping them clean and preventing them from being a hoarding ground for leftover food particles which causes plaque.
If anyone experiences problems of bleeding along your gum line or gingivitis, you especially have to spend time brushing along your gum line. The inflammation is resulting from a collection of microorganisms. Brushing in those areas is particularly important, reducing the amount of bacteria which will in turn gradually help reduce inflammation.
One more thing! The bristles on your toothbrush shouldn't be too hard!

I have personally had my teeth professionally bleached once so my teeth are fairly white. I'm not addicted to tea, but when I do drink it, I drink it with milk. I don't drink coffee at all. Coffee has adverse effects on me. It makes me a bit zoned out, sleepy…which is weird. I also drink very few soft drinks so I really can't compare my before and after pictures.

But I can say that after using this product, my mouth feels nice and clean. My teeth feel completely smooth and clean with a hint of fresh mint. As for the issue of bad breath, I noticed that once I use this toothpaste to brush before going to sleep, I wake up with fresher breath.

*Results vary for each individual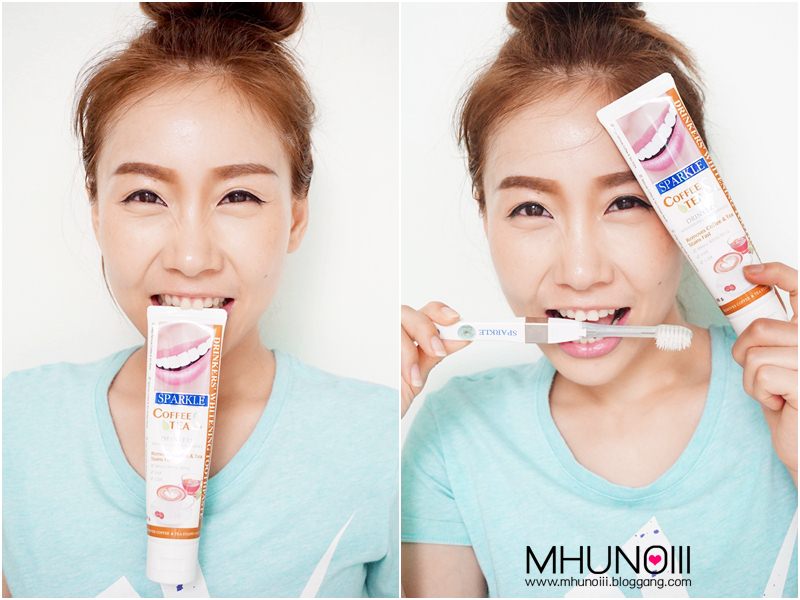 In conclusion, the Sparkle Coffee & Tea Drinkers' Whitening Toothpaste is another option for anyone looking to change their toothpaste, especially those of you who are tea and coffee lovers. By using this product, it seems like you would be solving a problem at its cause. As for the result of whether it actually brightens your teeth, I guess it depends on each individual, their personal habits, and the natural color of your teeth.

If you are actually addicted to tea or coffee and drink it everyday, a simple trick would be to at least rinse your mouth every time after you've had coffee or tea. This, of course, is an alternative if you don't have the opportunity to brush your teeth afterwards every time.
By rinsing your mouth afterwards, you're reducing the chance of substances within the tea or coffee from accumulating on the coating of your teeth.
It also will help reduce problems of bad breath. However, the best option is to always brush your teeth after every meal and after drinking tea or coffee.

In terms of pricing, I think the price is appropriate to the quantity that you get. It's easy to buy. And I really like the feeling after brushing with this toothpaste. You're left with a clean, fresh mouth without the burning sensation. It also helps reduce bad breath.
If anyone is looking for a tool to help them lessen stubborn yellow teeth stains, this is definitely an option you should consider.

*Results vary for each individual