Sparkle Ionic Toothbrush...the brush with negative ions!!!
Ok. So today we're going to brush our teeth together.
Actually, we all know that brushing our teeth is such a common, day to day activity.
It's safe to assume that we all reach for our toothbrushes twice or three times a day.
But many of us may overlook the importance of taking care of our oral health.
Before we know it, we're visiting the dentist and paying huge bills in dental care.
At that point do we start paying some attention to our "last set of teeth" before being forced to replace them with dentures!!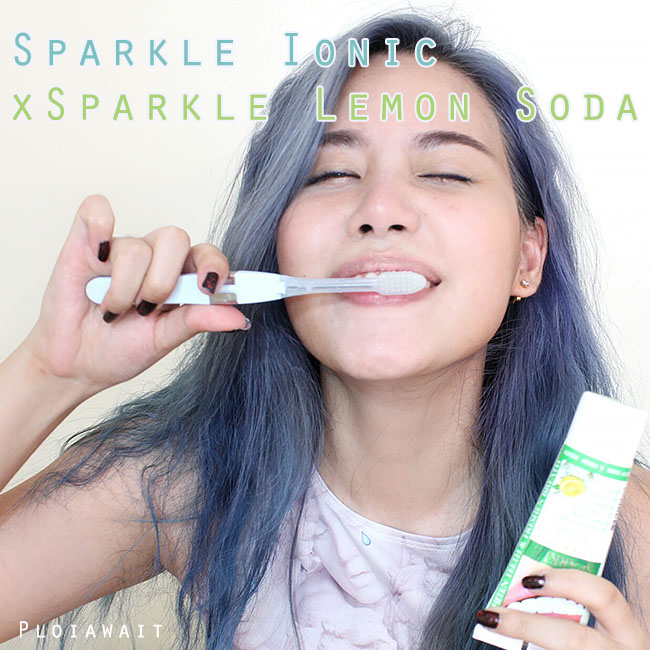 *Results vary for each individual
First of all, I must admit that I am one of those people who pay little attention to such issues.
Each time I brush my teeth, I take less than a minute in brushing (which is NOT the ideal practice). In actuality, we should spend at least two minutes brushing thoroughly each time.
We should also try to find a toothbrush which will help clean our teeth and remove bacteria and plaque that has accumulated on our natural enamel.
If we brush thoroughly, our overall oral health will be a rewarding result.
Sparkle Ionic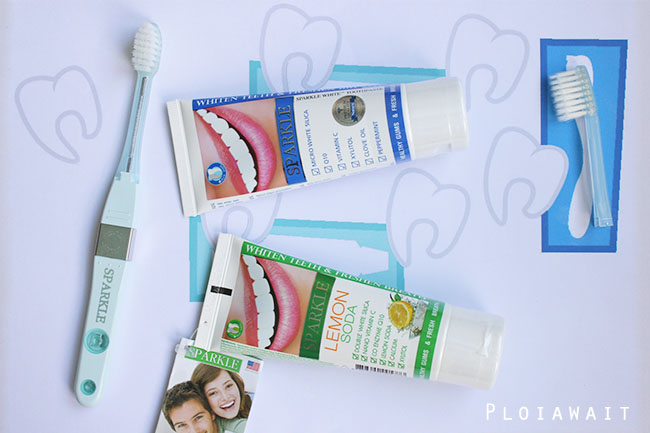 *Results vary for each individual
Ionic toothbrushes release negative ions which help detach remnants of bacteria and plaque that keep building up on your teeth. The ions also help remove tartar stains or stains caused by orthodontic braces.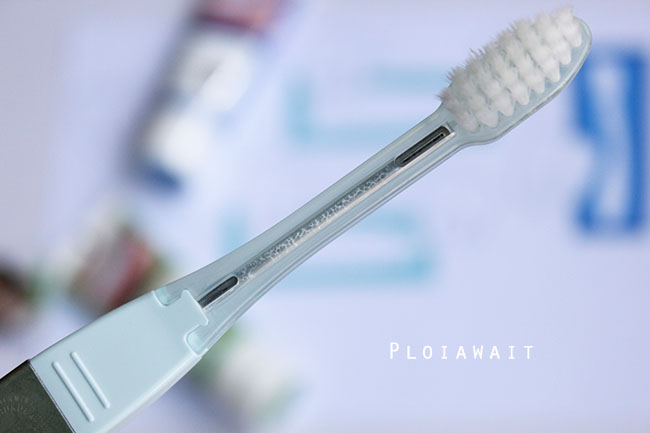 *Results vary for each individual
This is the metal plate which is responsible for the release of those negative ions to the brushes' bristles.
It utilizes a three volt battery which remains water proof.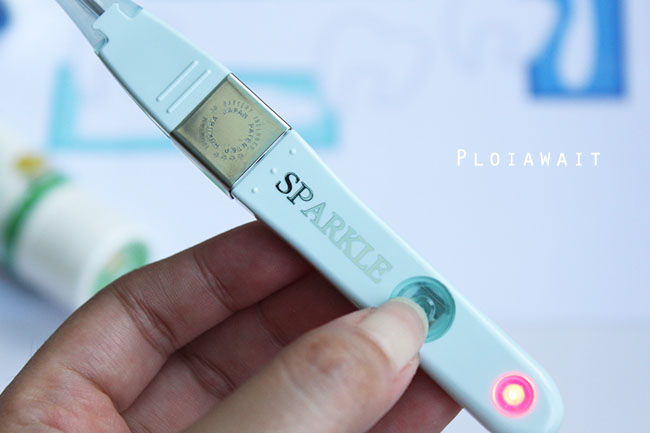 *Results vary for each individual
When used, the lithium plate and the brush must be wet in order for it to work. Water works as a conducive medium. As for the button that I'm pushing here in the picture, it's there to test whether the battery still works.
The battery has a product life of two years.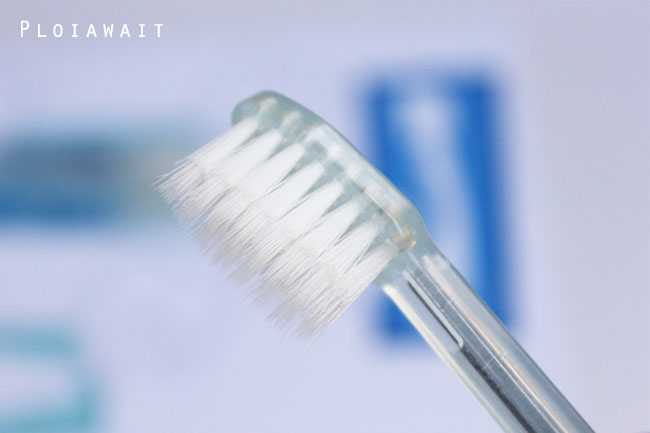 *Results vary for each individual
I would call the bristles on this brush pretty amazing. I've never used a two layer bristle brush before. This innovation is exclusive to Sparkle and is called its "Double Layer" bristle system. The tip of the bristle is merely 0.01 mm, enabling it to clean the smallest spaces in the tooth lining. The ends of the bristles are round, so they help massage your gums while you brush.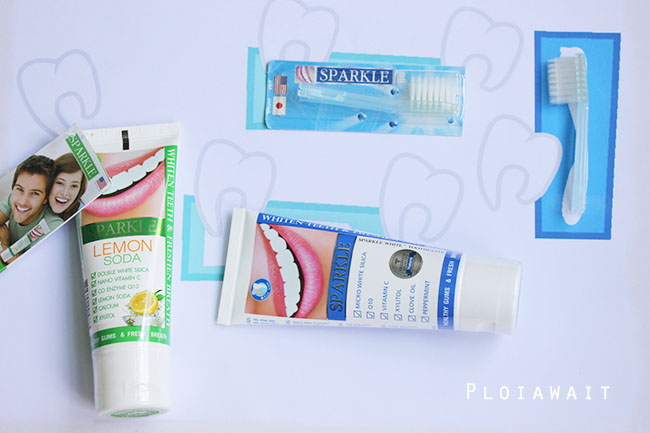 *Results vary for each individual
The bristles of this toothbrush are replaceable.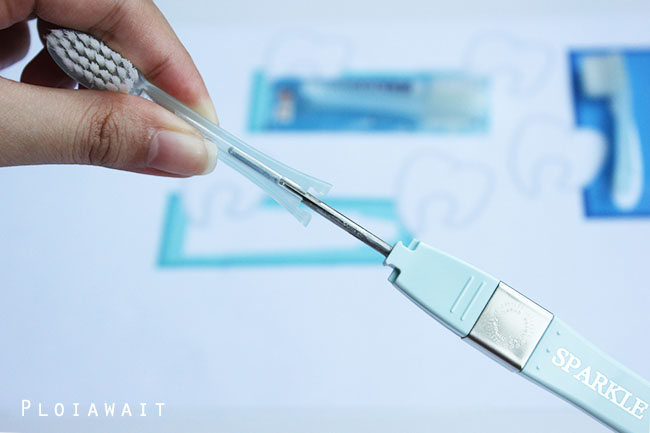 *Results vary for each individual
Merely pull directly off the handle and replace it with a new one every three months.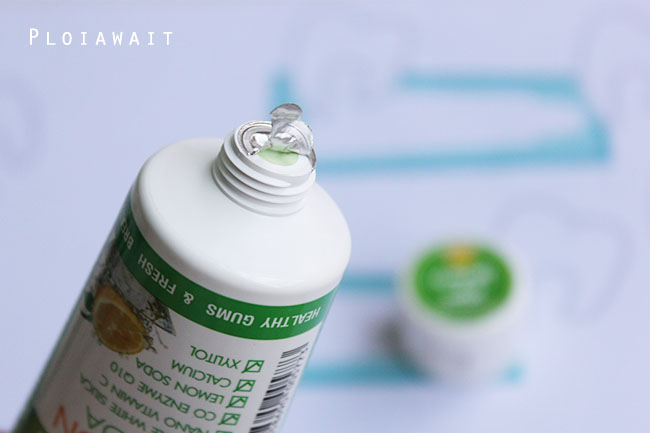 *Results vary for each individual
As for the Sparkle Lemon Soda Toothpaste…this is another favorite.
It tastes good (oops, you're not supposed to eat it) and smells good too.
It helps you obtain whiter teeth and fresh breath.
This type of toothpaste will give you a sort of citrus tingle while you brush.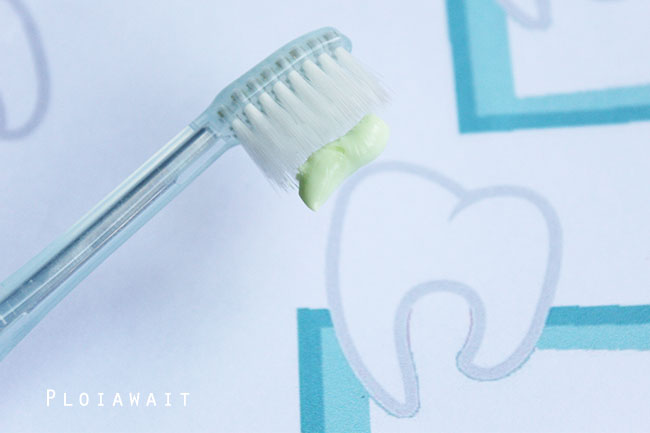 *Results vary for each individual

The Sparkle Lemon Soda Toothpaste contains Nano Vitamin C, which is a special formula imported from Germany.
The tiny nano particles are able to penetrate the foundation of your gums to promote oral health.
It also promotes a resistance against bacteria which is the cause of gingivitis and bad breath.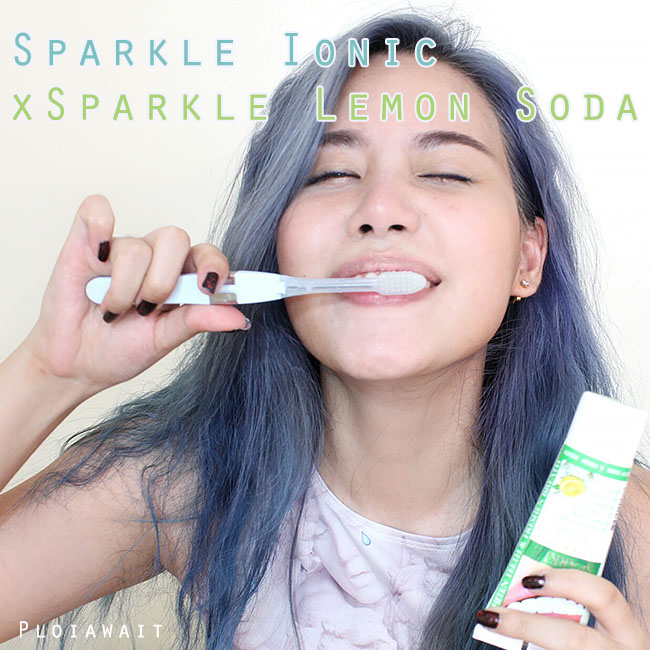 *Results vary for each individual
(Giving out fresh breath~~)
Wet your hands before using the brush and hold on to the handle where
the lithium plate is located to make sure the efficient release of negative ions.
Personally, I have been using this brush for about a month now. Since then,
I haven't encountered any gum problems, especially bleeding along the gum line.
I must admit that the bristles are really, really soft.
When brushing, always remember to concentrate your efforts towards the area
between your teeth and your gums because that is where most of the bacteria can accumulate.
After use, my teeth feel smooth unlike before when I slid my tongue over my teeth and would encounter layers of "something".

This product is best suited for those of us who have gingivitis, particularly stubborn
plaque and anyone who has orthodontic braces.
Equally important is that by brushing your teeth the right way and with the right tools,
you can prevent your gums from receding so don't neglect the importance of oral health.
(My aunt used to say that the cost of getting a root canal was equivalent to
parking a BMW in your mouth because the prices are very, very steep.)
*Results vary for each individual