REVIEW Sparkle Whitening Kit (New Formula)
Get whiter teeth easily with a do-it-yourself kit at home.
No sensitive teeth afterwards. No saliva pooling too.

Isn't it true that a beautiful smile and a lovely face are the most charming attributes a girl can have? (Anyone who agrees with me, raise your hands!)
But I truly believe that in order to have a beautiful smile, the smile itself must be sincere and, equally important is, you have to have nice white teeth.
A fresh face, and nice physique, coupled with a yellow toothed smile??? Well, frankly, that doesn't work. End of story!
So today, I want to review a product that will help us easily
obtain whiter, brighter teeth.


Tada!!!! This is the SPARKLE Whitening Kit (New Formula)
a fast D.I.Y. dental whitening & cleaning tool.
One thing I have to tell you is that this brand comes directly from the USA!!!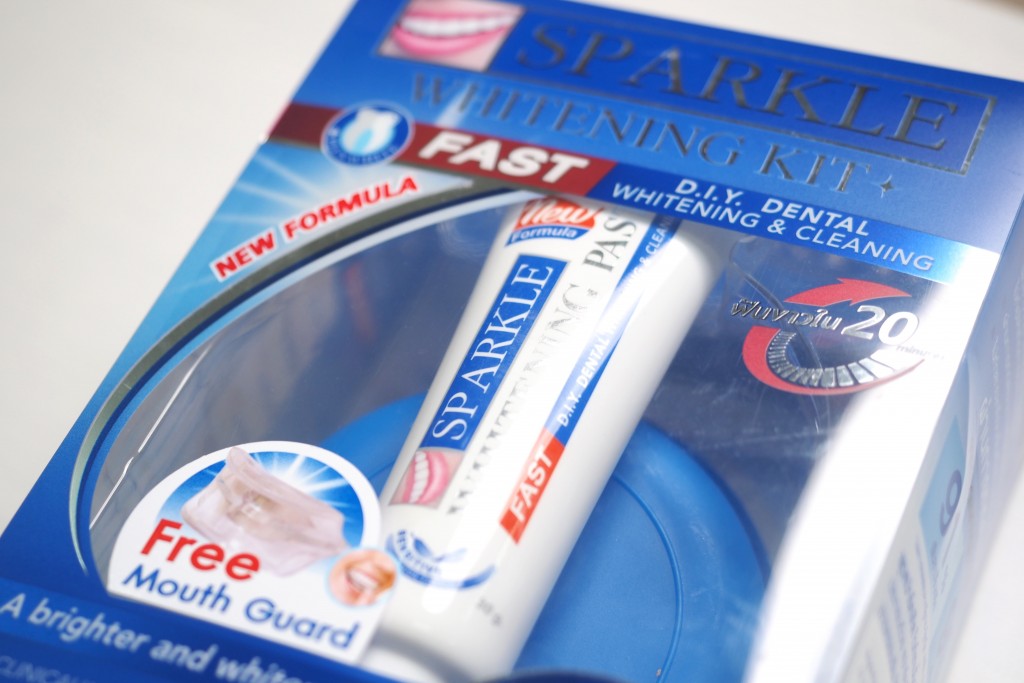 Tada!!! The SPARKLE Whitening Kit can be bought at Boots and Watsons stores nationwide at the price of merely 550 Baht.
You don't even need a visit to the dentist.
(Personally, I'm very afraid of dentists. Just walking into a clinic makes me nervous)


In the box, you will find:
★ Whitening gel (looks a lot like toothpaste, just thicker)
★ Mouth trays (looks like it's made of very good quality)
★ A container to store the mouth trays
★ A strip to compare tooth coloring shades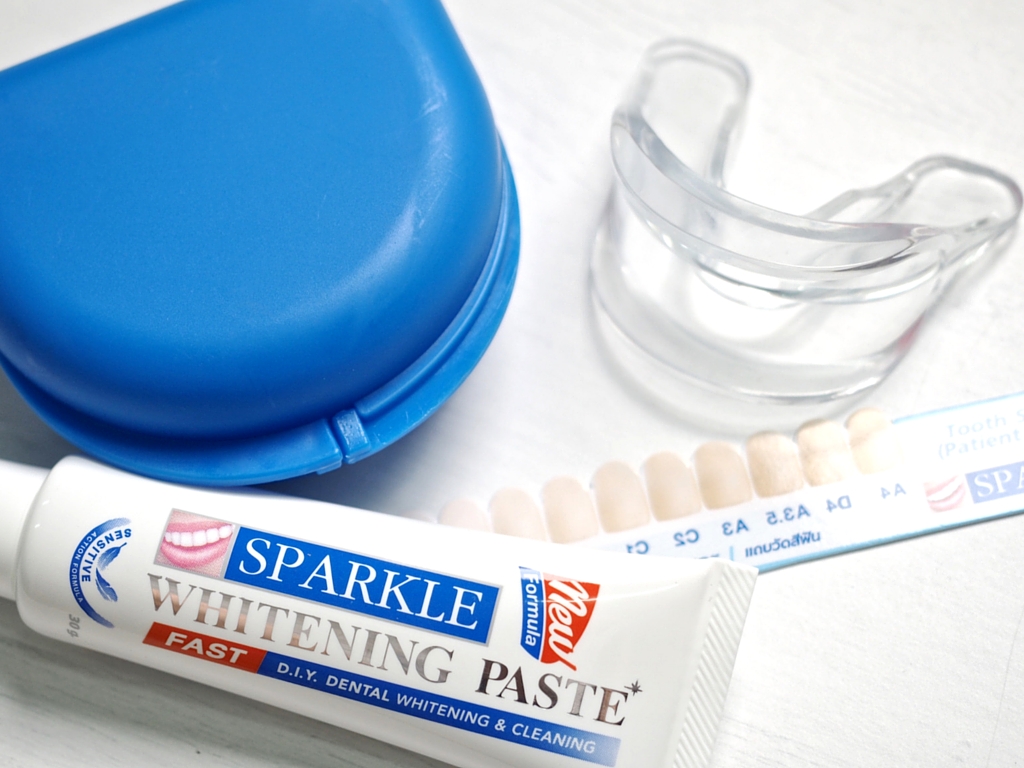 Before I actually start whitening my teeth, let me take a quick snapshot.
From this coloring strip, I think my teeth color is between C2 and A3.
I think that's right.
You have to look at the strip in the mirror and it will be pretty easy.
Please don't forget to write down which color you are so you can compare the results after we do the whitening.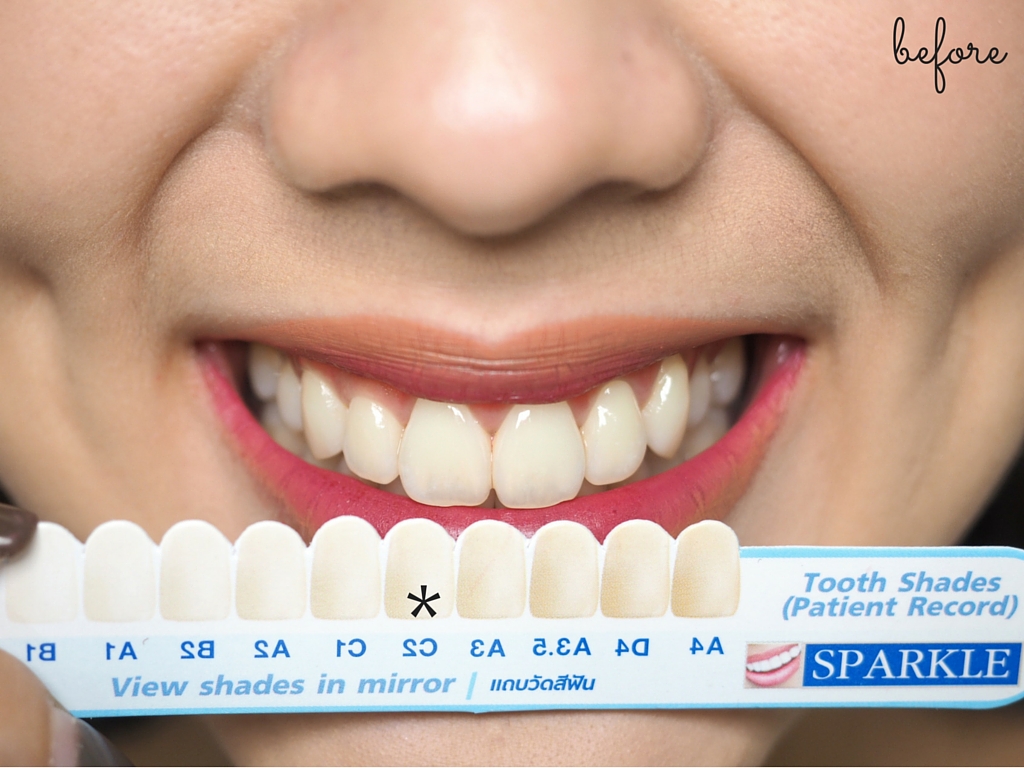 ส่วนวีธีการทำก็ง่ายแสนง่าย
As for the technique, it's very simple.
1. Squeeze the whitening gel onto the mouth tray, for both your top and bottom teeth. I paid special attention to squeezing enough gel into the front part of the tray to make sure the gel comes into direct contact with my teeth. You don't really need to worry about the back part of the tray. If our back teeth aren't as white, it's ok because no one sees them anyways. (laughs)
★ This type of whitening gel is white. ★
I think it's easier to notice this way.
You can tell right away if you've put in enough gel or which parts of your teeth the gel will come into contact with.
Make sure you cover all the front parts of the tray.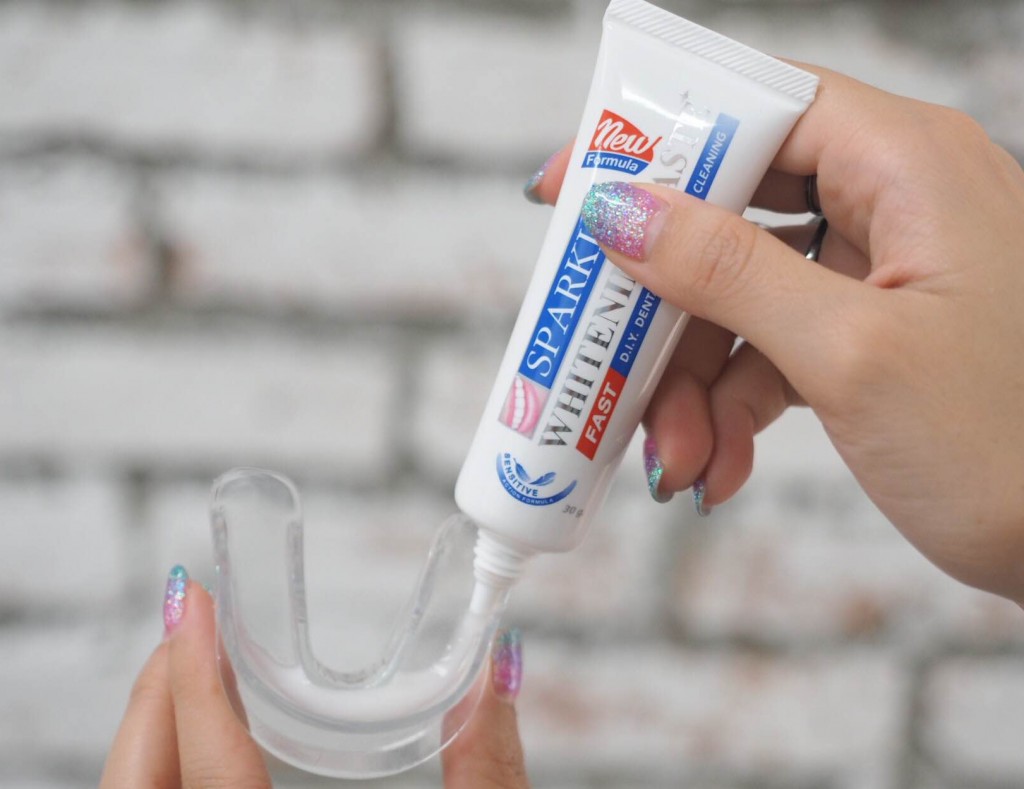 2. Put the tray into your mouth and bite down onto it.
There's no need to put too much pressure into it. Just let it sit there naturally.
Relax your mouth.
Leave it for at least 20 minutes (But I left it for a full 30 minutes)
During this time, you'll have saliva just as you would normally have.
I'd like to recommend that you don't swallow because it doesn't taste good (laughs)
It's actually safe to swallow, just like toothpaste, but personally, I'd recommend that you just not swallow.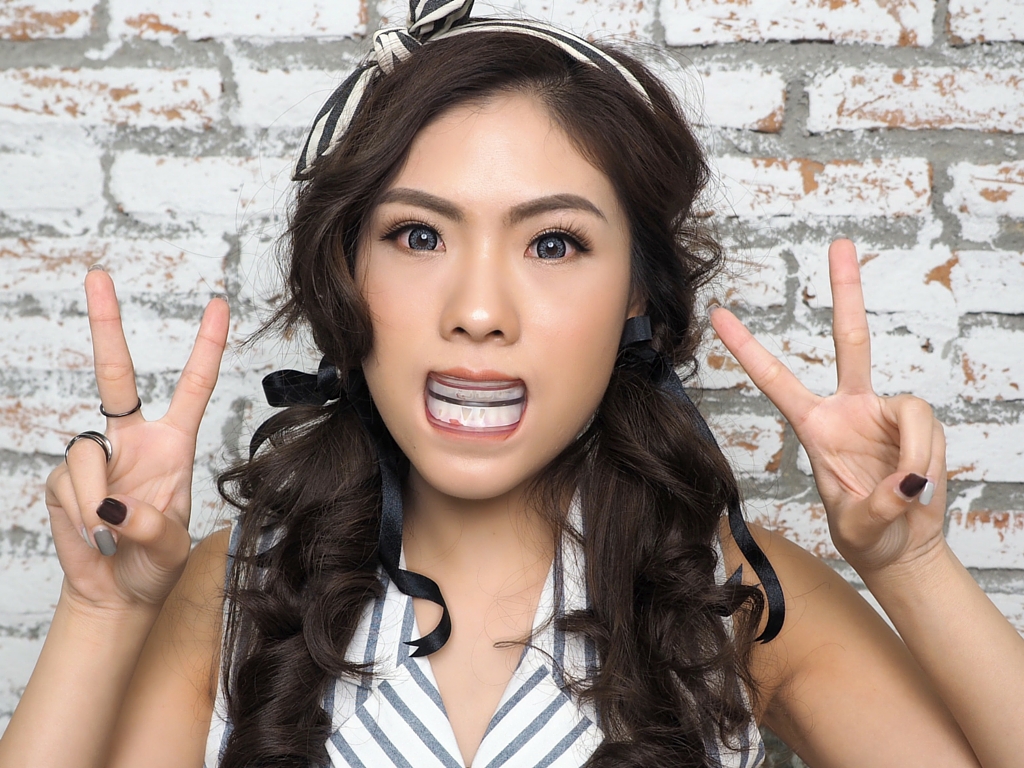 And this is what my face looks like while the trays are inside my mouth. (laughs)
It's actually quite funny and a little bit scary to see yourself like this.
If anyone lives in a dorm, you can easily prank your friends!!!
3. Once the time is up, remove the trays and rinse your mouth.
That's it. Mission complete!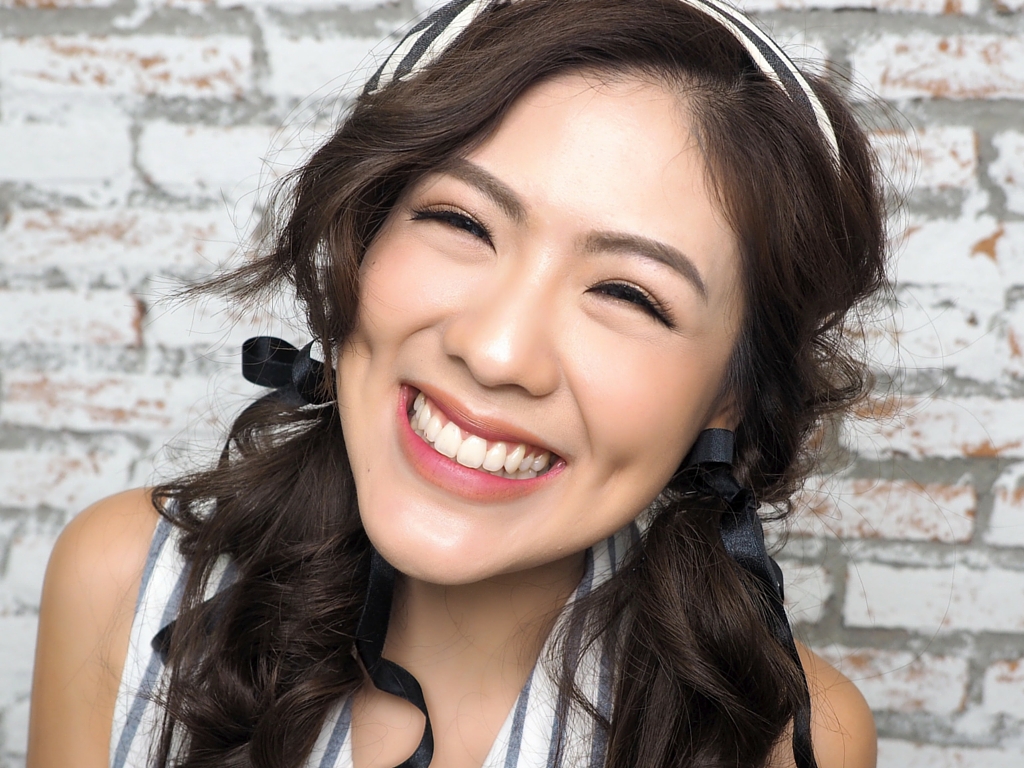 ♥ What it feels like during the whitening process ♥
I was secretly dreading that my teeth would feel super sensitive
because I've tried something like this in the past and my teeth were hypersensitive throughout the whole process.
But this time around, not one bit. Not at all!
If you look at the packaging, you'll see that it's the Sparkle Whitening Kit (New Formula)
which is a non-peroxide formula. So I did a little researching…
Ohhhhhhh… it's actually a formula which prevents us from getting hypersensitive teeth.
It also doesn't damage our natural enamel. It's so good. Truly a developed formula.
As for the mouth trays, they're appropriately sized. Not too big. Not too small.
Placing both trays into your mouth is not uncomfortable at all.
The whole experience is very chill. You can do various activities while whitening your teeth.
.
♥ What it feels like afterwards ♥
Wow! It really looks whiter!
I must say that I was rather surprised to see these results after just the first use.
It didn't turn out overly bright, but it was noticeably whiter for the first use.
These things will take a bit of time.
You have to do it continuously for about a week for the most noticeable results. But for results after the first use, I am very, very happy!

---
Let's now look at the before and after pictures.
See? You can notice a small difference.
It seems like it got whiter by about one level.
I started off at C2 and now it's at C1!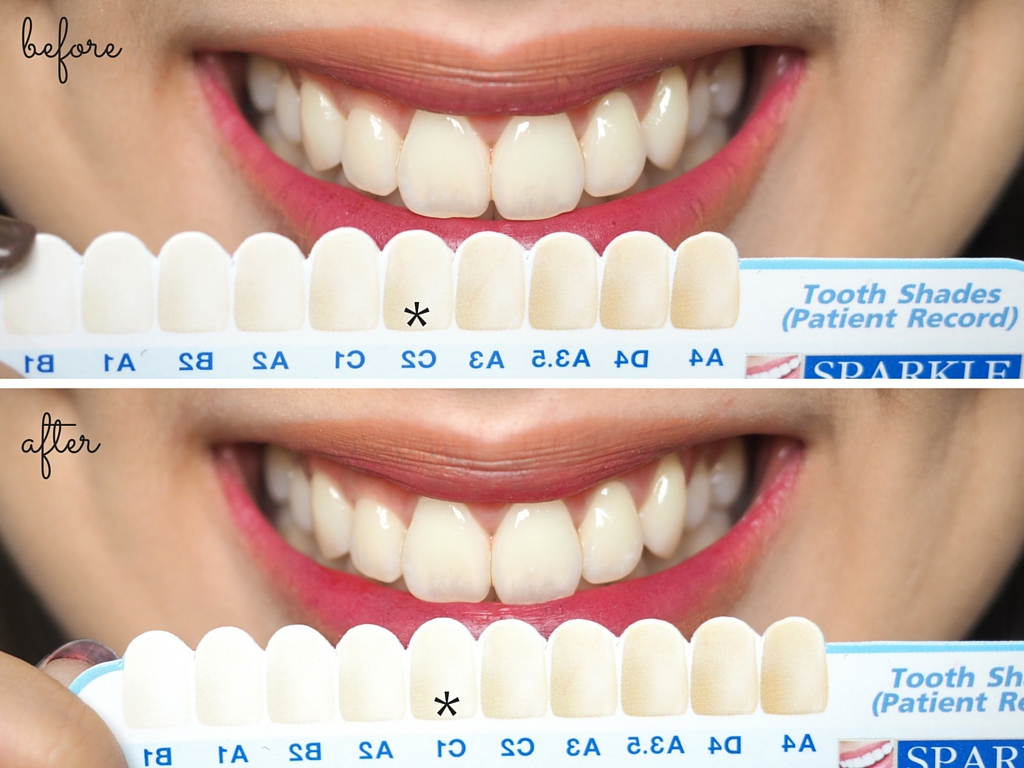 Let me repeat that this is my first use!!!
Imagine if I used it repeatedly for a week. The results will be much recognizable.
If I were to guess, it will probably brighten up to 2 levels.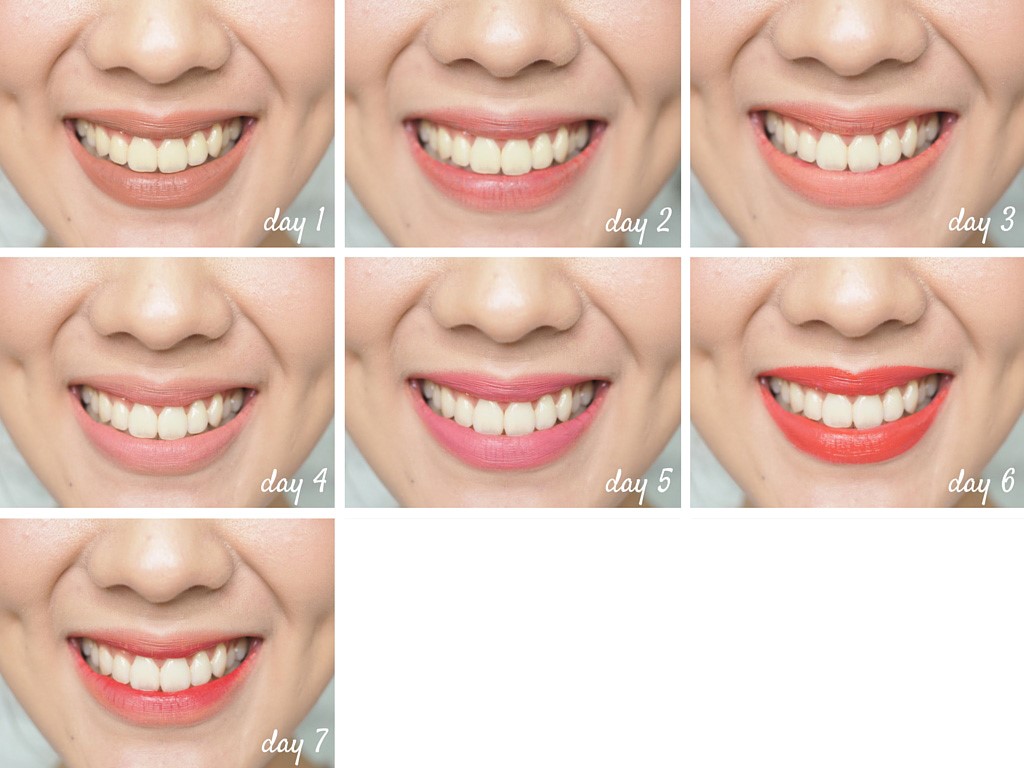 These are the day to day pictures.
♥ Conclusion ♥
VERY HAPPY!
I feel that it's very worth it. You should try it.
It's not something they're kidding around about.
It's really fast. It really whitens and it's very easy.
Now we're able to have a bright and beautiful smile, showing our shiny teeth. We can now spread our charms anywhere or to anyone we want to (LOL).
Pingggg! Our self-confidence will soar!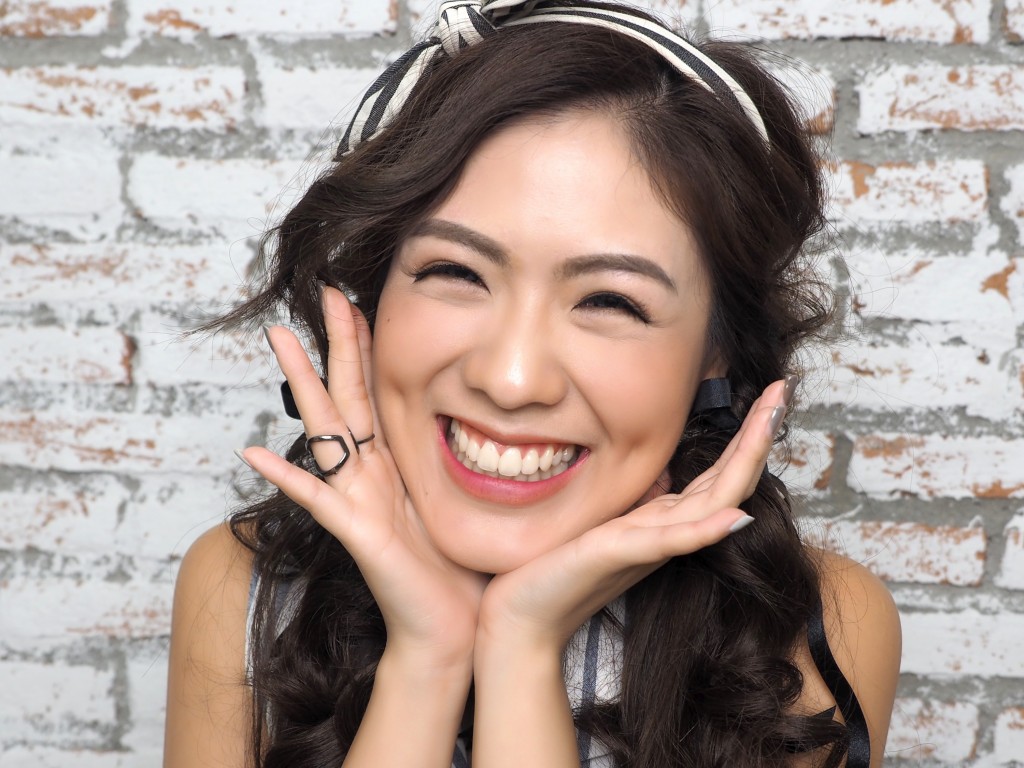 Let's end with a another really funny picture. (laughs)
Like I said, it's very easy. There's no pooling of saliva, no hypersensitive teeth. So it was pretty easy to take funny pictures while I waited.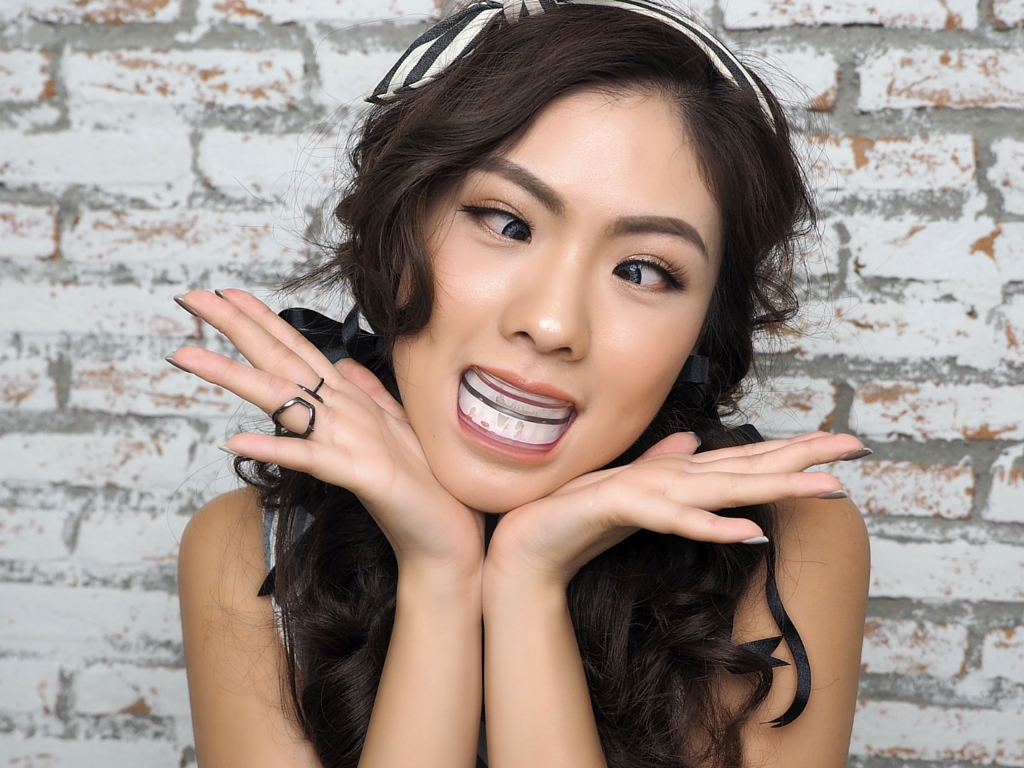 *Results vary for each individual
Thank you for the good review from Icepadie : http://icepadie.com/sparkle-whitening-kit-diy-ทำฟันขาว/