Mini Review: The most effective plaque fighting toothbrush? Let's take a look!
Hi, everyone. Let me first start by saying that I am someone who has dental problems. It's not a problem with unsteady, chipped, or even crooked teeth. It's a problem that involves teeth stains and plaque. That's why it takes me such a long time to make up my mind when buying a new toothbrush. It's hard for me to know which brand is good enough, especially when there are so many brands on the market. Many of them boast of the same qualities. So I'd like to try each brand to see if the claims they make in their commercials about removing plaque are true. Many of us still wonder what plaque really is. Plaque is an accumulation of micro-organisms which results from bacteria and sugar that is left in the crevices of our teeth. If not cleaned properly, this left over material will become plaque.
Today, we're going to try various types of toothbrushes and share the results with you, hoping the information will be useful.
These are the five brands of toothbrushes which we have decided to test.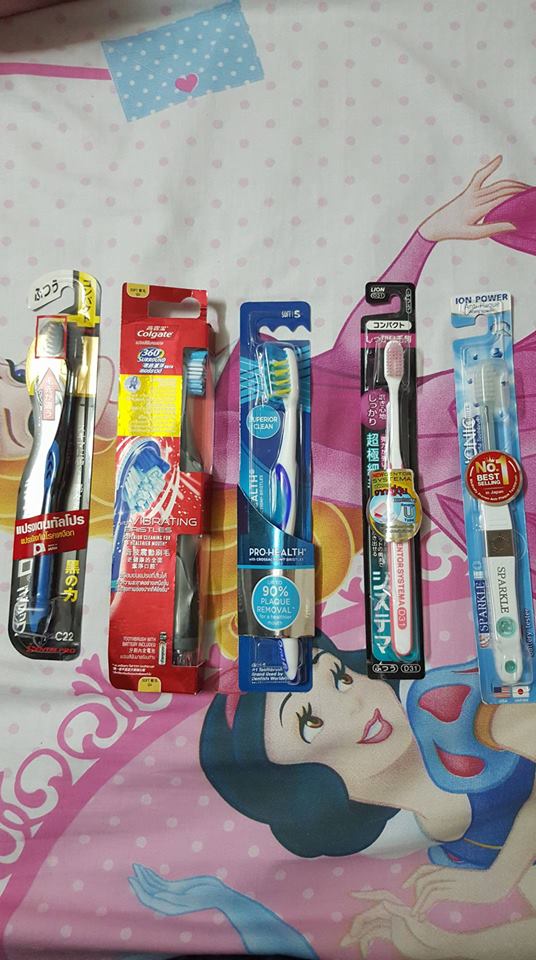 1. DentalPro Black Toothbrush Price 160 Baht
2. Colgate 360º Surround Toothbrush Price 179 Baht
3. Oral B CrossAction Pro-Health Superior Clean Soft35 Toothbrush
(Anybody agree that the name is a bit too long?) Price 99 Baht
4. Dentor Systema Shikkari – Kegoshi Toothbrush Compact D–31 Price 113 Baht
5. Sparkle Ionic Toothbrush Priced 229 Baht

*****My testing method: I used each toothbrush to brush my teeth twice a day, morning and night, for 3 continuous days.*****
Let's get started!!!!!!!
1. DentalPro Black Toothbrush Price 160 Baht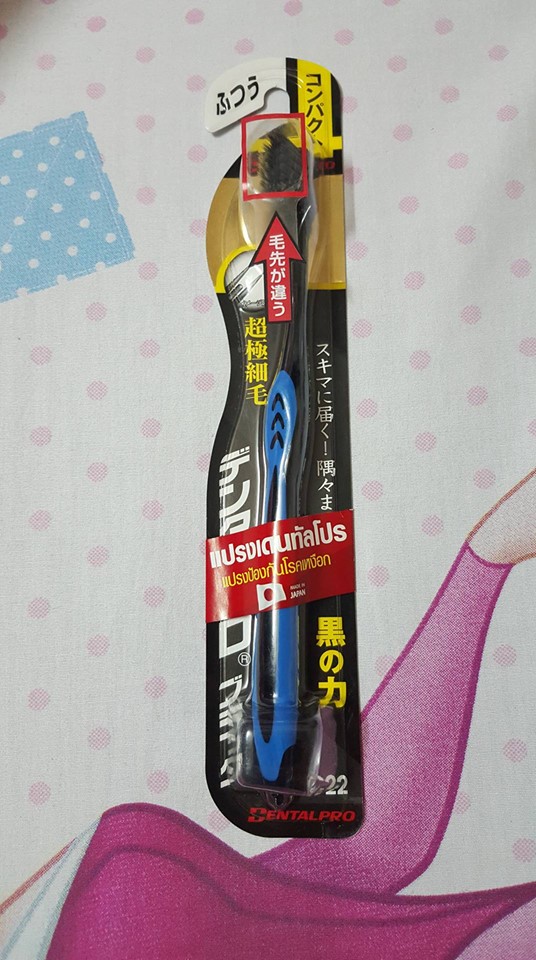 ******The bristles are dark in color as you can see in the picture******
Product claims >>The products' bristles are partially made of Platinum Colloid Ceramic which can help reduce plaque with the use of just plain water. Made into the shape of a "W", the bristles are super slim, able to reach the smallest crevices of the mouth. The product claims it can reduce plaque by up to 15% better than any regular toothbrush.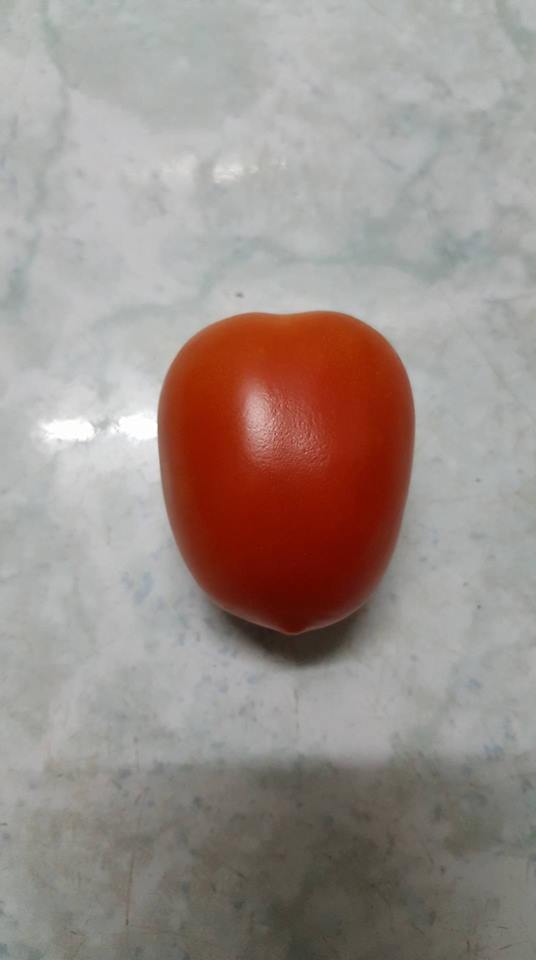 After using the product >>With the DentalPro's long, pointy bristles, I felt that it was really able to get into the hardest-to-reach areas of my mouth. However, the bristles were rather harsh, leaving me with a rather raw, unpleasant feeling along my gum line. But if you consider just it's efficiency in removing food particles from your mouth, this toothbrush works rather well.

I used the product to brush the outer peeling of a fresh tomato 30 times. You can see that the bristles left quite prominent markings. That is because the bristles of the DentalPro are a bit too hard.
Before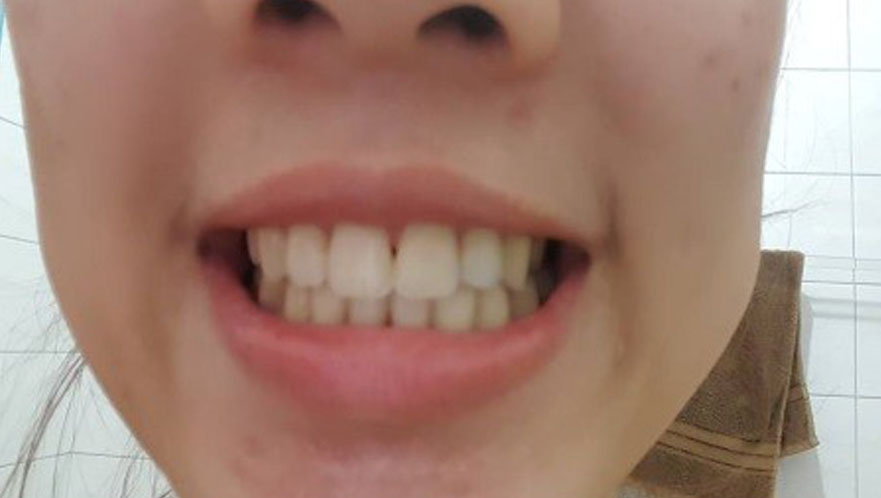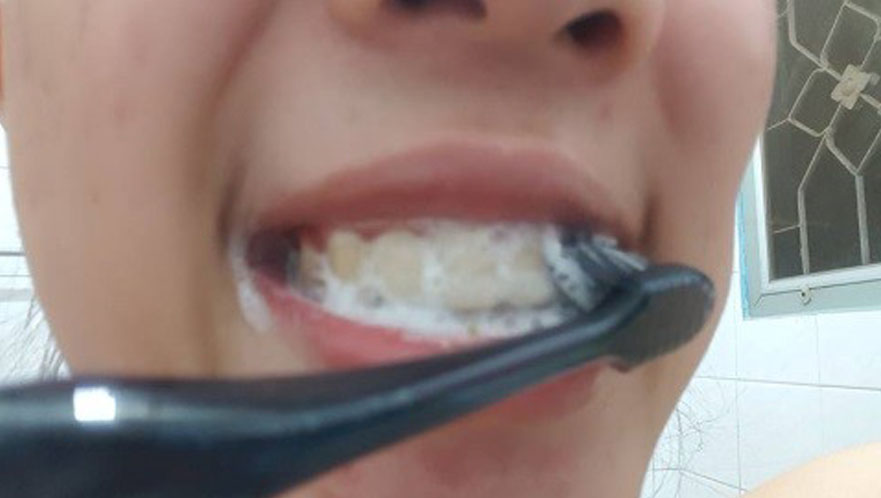 After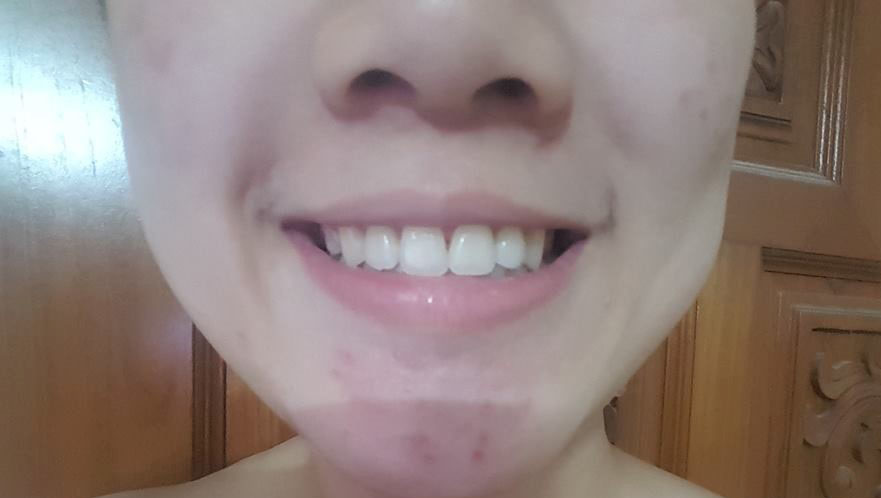 2. Colgate 360º Surround Toothbrush Price 179 Baht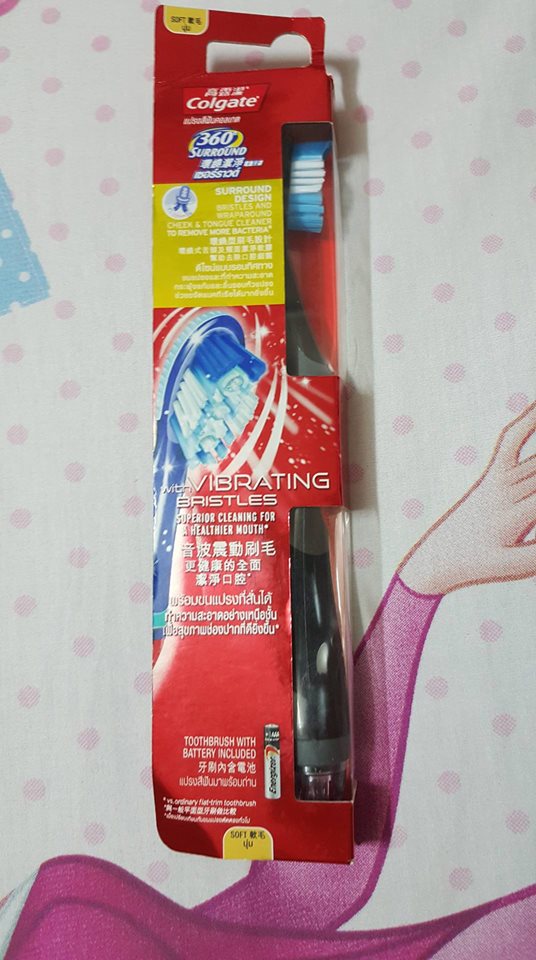 ******The handle is black, but the bristles are a shade of soft blue…nice and cute******

Product Claims >>The Colgate 360º Surround Toothbrush is designed so that the the bristles of the brush encompass teeth from all sides, enabling it to clean both sides of each tooth as well as the lining of the gums at the same time.
After using the product >>I really liked how it vibrated. The whole handle was pulsating! (Of course, it only resonates when batteries are installed) The handle is just the right size and you can use the back of the bristle head to clean you tongue. Some attributes that I didn't like were that the bristles were a little too harsh, the bristles weren't dense enough for me and the head of the brush was a tad too big. Although the battery powered brush did help clean my teeth somewhat, I didn't feel as though it did a good enough job.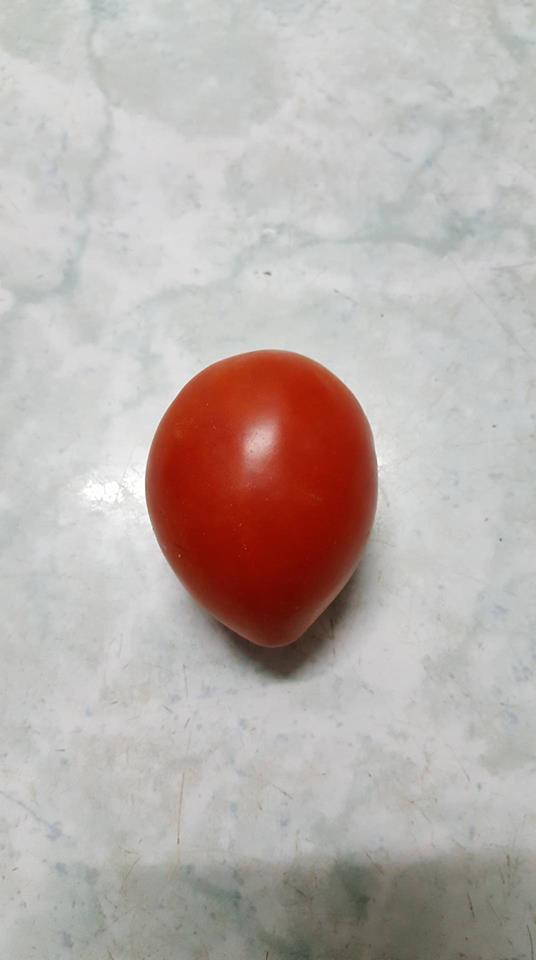 I tried this brush on a tomato the same way I did with the previous one. The result? Marks were also visible because of the hard, sparse bristles.
Before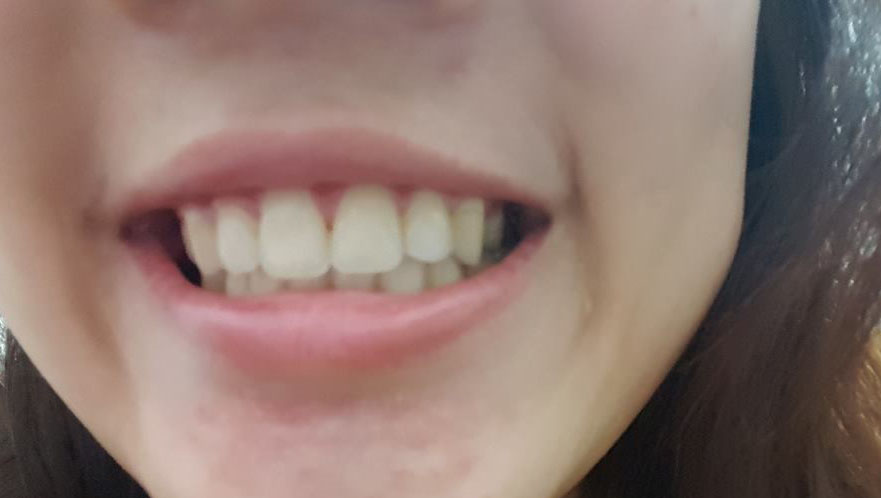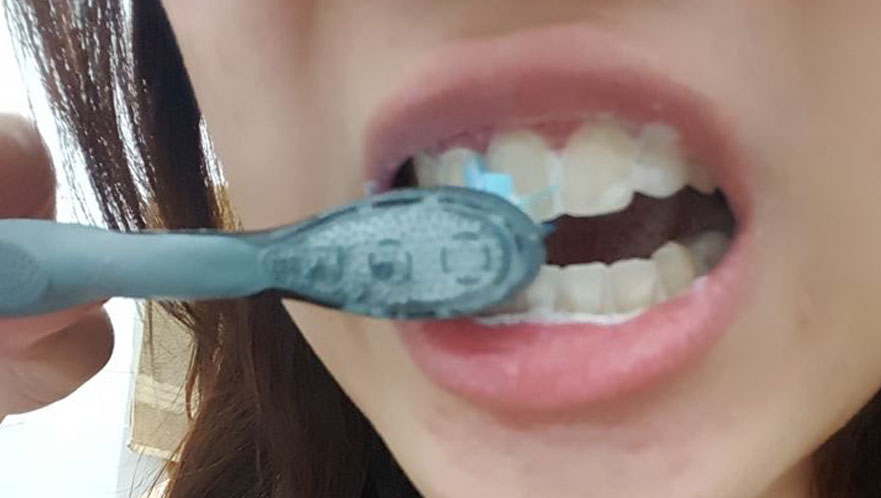 After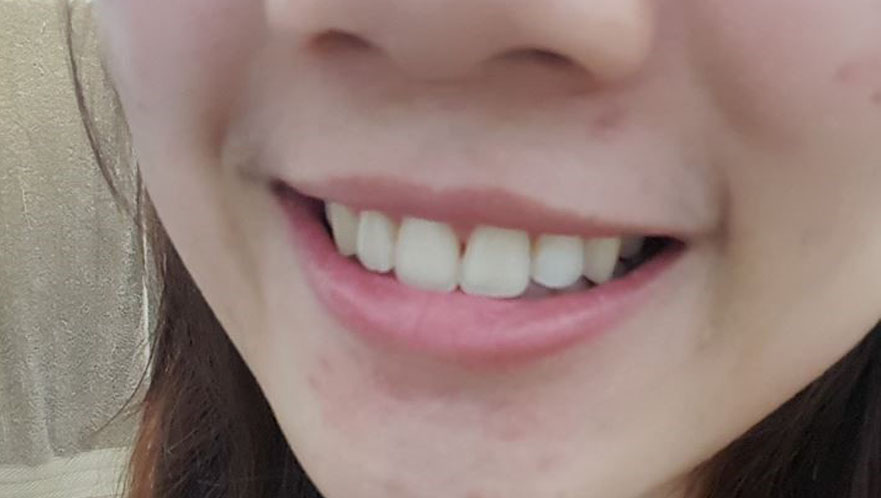 3. ORAL B CROSSACTION PRO HEALTH SUPERIOR CLEAN SOFT35 TOOTHBRUSH
Price 99 Baht
****A white handle with multi-colored bristles…pastels are in trend right now, right?****
Product Claims >>Cleans thoroughly and helps rid of 90% of plaque in hard-to-reach places. Wow! Wow! Wow!
After using the product >> I have to say right away that the bristles are hard, but they did a good job of cleaning my teeth. The handle fit just right in my hand and the bristles were nice and big. However, I still didn't like the hard bristles which hurt my gums when they came into contact with each other. This might be the right brush for some people who like bigger brushes. Brushes that are more hard core than others. (Hahaha)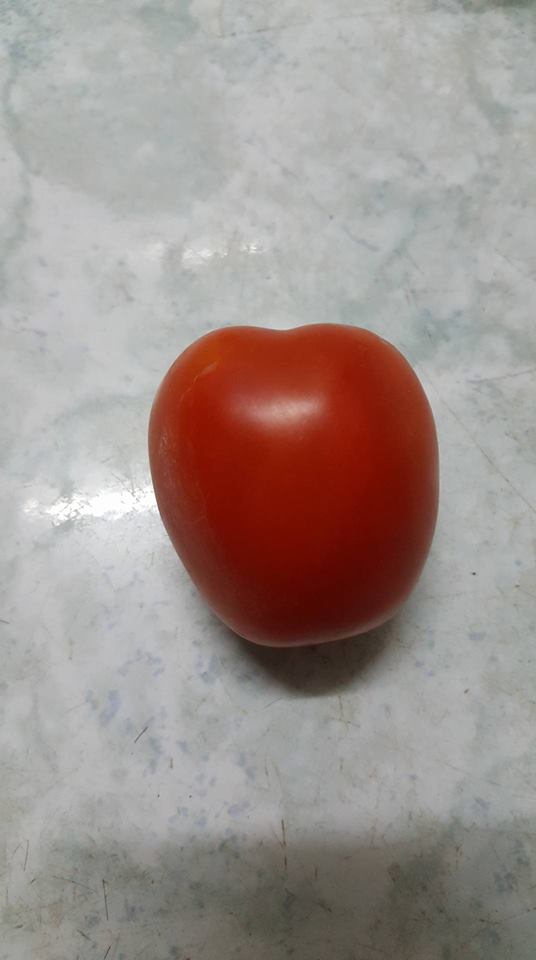 It didn't do very well on the tomato test. After brushing the outer layer of a tomato 30 times, you can visibly see the markings left behind by the Oral B brush. As I said

earlier, I think the bristles are very hard. I thought they would leave deeper marks on the tomato because they really hurt my gums when I used the brush.
Before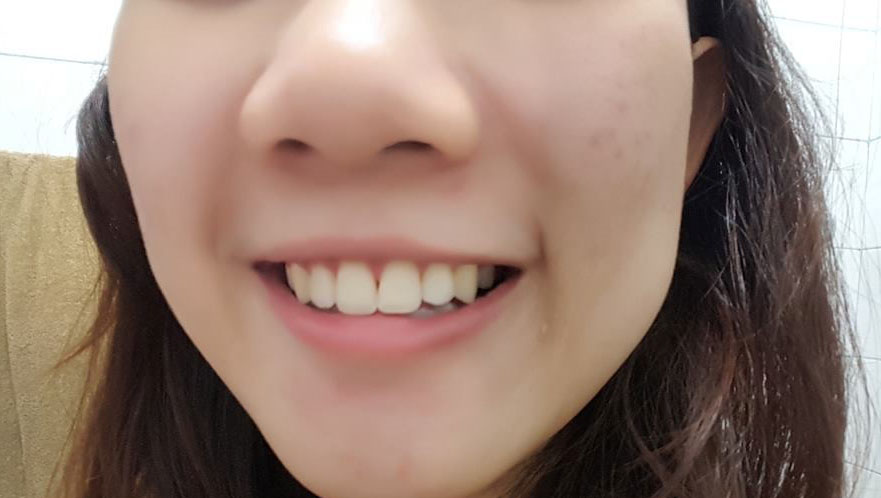 After


4. Dentor Systema Shikkari – Kegoshi Toothbrush Compact (D – 31) Price 113 Baht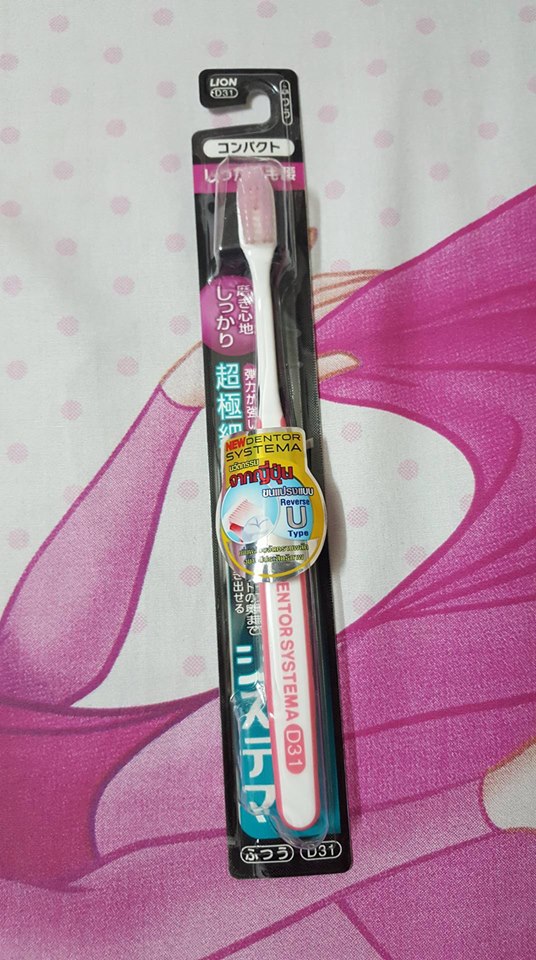 ****** This one is really cute! A soft pink, perfect for you ladies out there******
Product Claims >> Dentor Systema Shikkari – Kegoshi Toothbrush Compact Toothbrush boasts of another innovative stage directly from Japan. It's reverse U-type bristle design consists of 2 layers of bristles which more effectively gets rid of plaque. The bristles are made of two types of polyester, PBT and PET, both known for their ability to stretch. The handle is made out of polypropylene, which makes it lightweight and durable and fits well in the hand. The neck of the brush is long and narrow, enabling the user to maneuver it throughout the mouth easily.
After using the product >>This toothbrush cleaned my teeth very, very well. It didn't leave my teeth feeling coarse. The bristle head is nice and small. The bristles themselves were soft, able to dig into the crevices of my mouth well.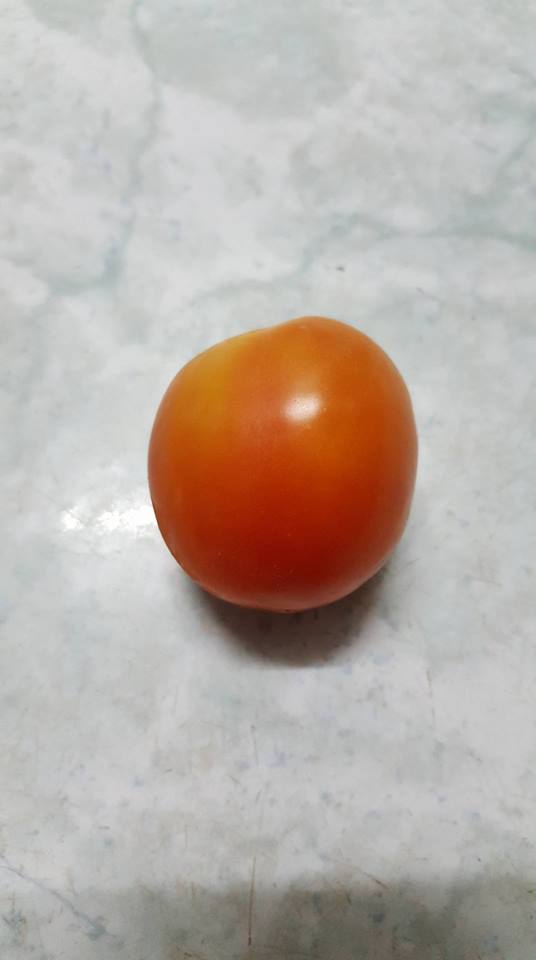 The tomato test: After 30 brushes, this toothbrush didn't leave much of an impression on the fruit's peeling. That's because of its soft, gentle bristles.
Before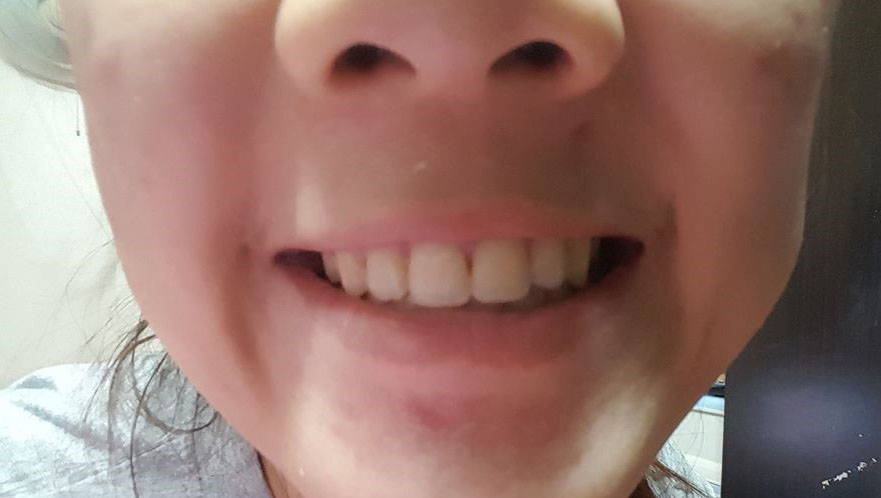 After



5. Sparkle Ionic Toothbrush Price 229 Baht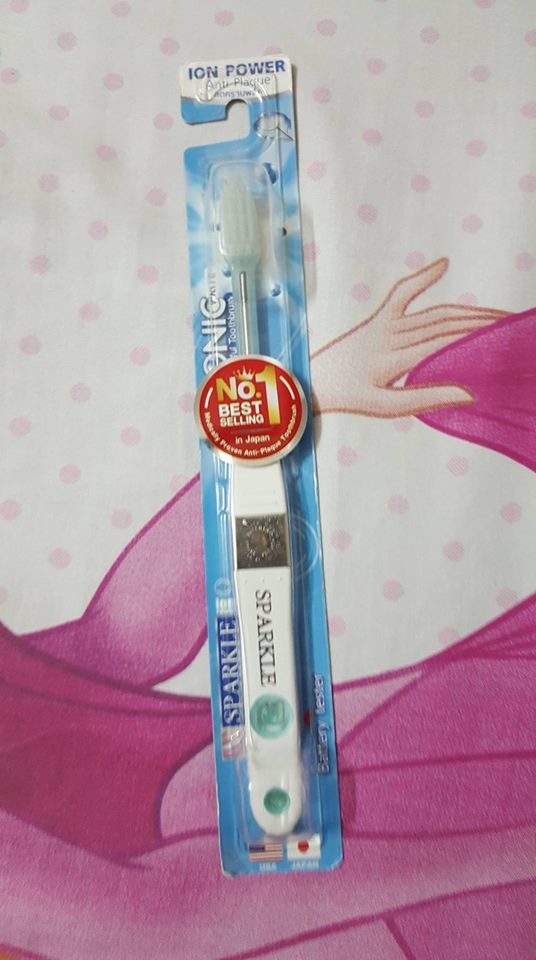 ****** The button on the handle tests its ionic powers. So top notch!******
Product Claims >>The Sparkle Ionic Toothbrush is the number one selling toothbrush in Japan. It's ionic powers release negative ions which pull off bits of plaque and other tooth stains from teeth effectively. If used continuously, the brush can help achieve white, healthy teeth, breaking down tartar and reducing plaque stains. Your teeth will become shinier. Your gums will remain a healthy pink color and it will rid your mouth of bad breath. The back of the packaging clearly details how the toothbrush works to reduce plaque stains.
After using the product >>The bristles are so, so soft. They are able to effectively clean gum linings, helping reduce the cause of gingivitis. My mouth felt very clean after using this particular toothbrush. It also has an extra cool feature. Users are able to change the bristle head without having to replace the entire toothbrush. All you have to do is buy another bristle head and it's like you have an entirely new toothbrush. So cool! One thing though. When you're using the brush, make sure to keep your finger on the metal plate on the handle in order for the brush to work properly. This is the only downside.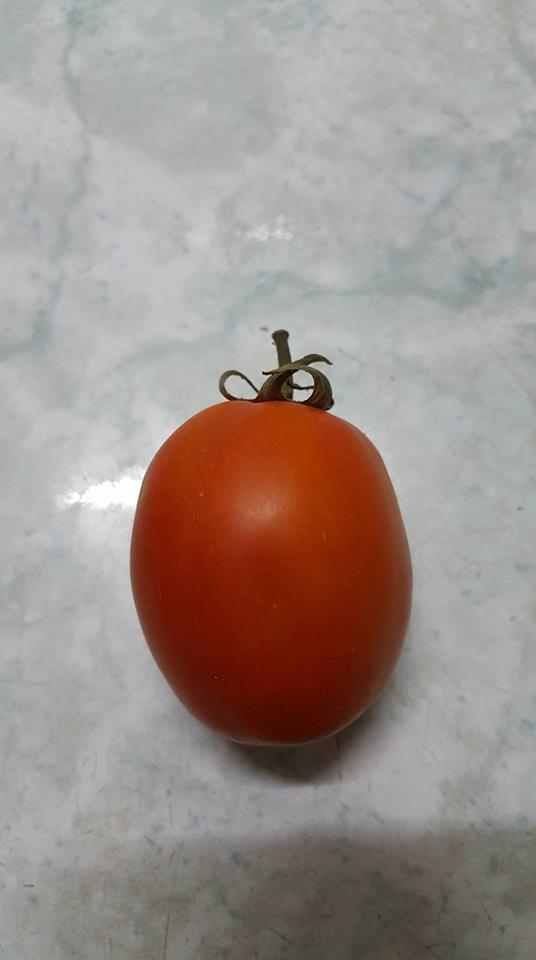 As always, I did the same test on a fresh tomato. After 30 brushes, I almost didn't see any damage done to the tomato peel. That's because the bristles on this brush are so soft and gentle. While brushing my teeth, this brush didn't irritate my gums at all, but it did do a good job on removing plaque. I'm in love!

Before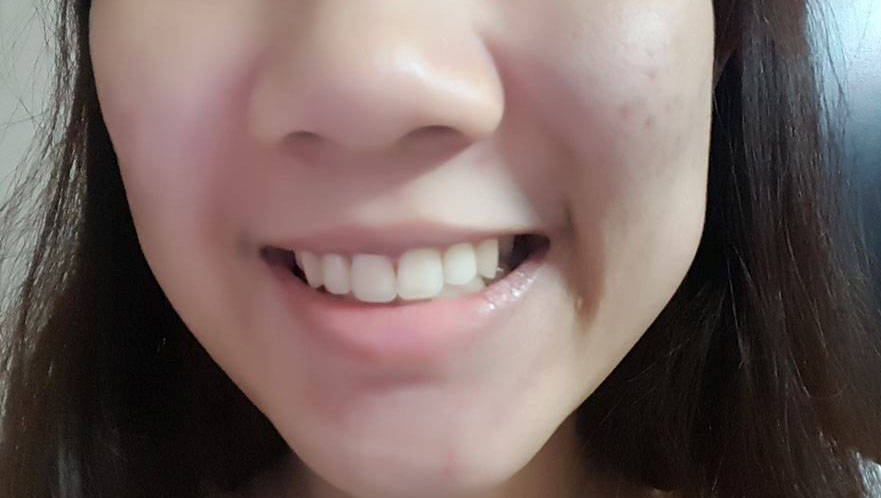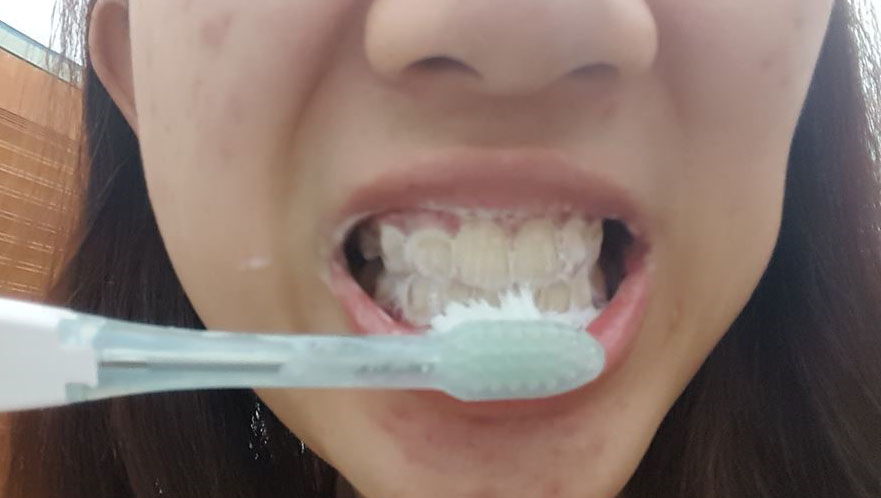 After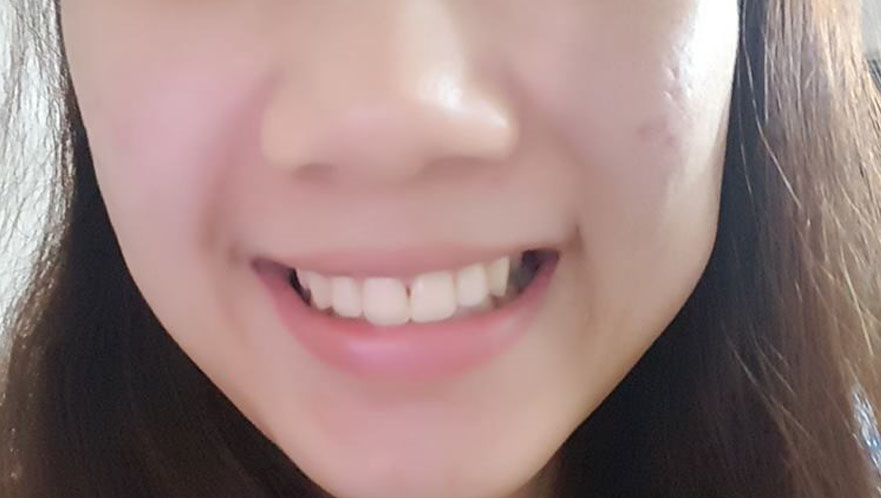 After trying all five brands of toothbrushes, I think all of them did fine. While brushing, I didn't feel much of a difference between any of them. However, the result that could be noticed after the brushing was quite clear to me. Personally, I preferred a brush which bristles were soft and gentle because they didn't irritate my gums. I don't think anyone would be ok with having their gums damaged every time they brushed their teeth. Now, let's tally up the results.
The basis of my point system is divided into categories as seen in the chart below.
1. "must improve"
2. "satisfactory"
3. "good"
4. "great"

| | | | | | | | |
| --- | --- | --- | --- | --- | --- | --- | --- |
| | Performance | Packaging | Bristles | Price | Cleanliness of teeth after use | Value | Total |
| 1. Dental Pro Black | 3 | 3 | 3 | 1 | 2 | 2 | 14 |
| 2. Colgate 360º Surround | 3 | 2 | 2 | 2 | 3 | 3 | 15 |
| 3. Oral B Crossaction ProHealth Superior Clean Soft 35 | 4 | 3 | 2 | 3 | 3 | 3 | 18 |
| 4. Dentor Systema Shikkari – Kegoshi | 3 | 3 | 4 | 2 | 3 | 3 | 18 |
| 5. Sparkle Ionic | 4 | 3 | 3 | 2 | 4 | 4 | 20 |

Conclusion>>I'm most satisfied with the last two toothbrushes because, personally, I favor soft, gentle bristles. The last two in the chart have appropriately sized bristle heads. But if you were to ask which one I liked the most, I'd have to say the "Sparkle Ionic Toothbrush". After this test ended, I continued to use the ionic toothbrush and I noticed that the Sparkle toothbrush was able to help clean out left over food particles stuck in the crevices of my teeth. Additionally, the tooth stains I used to have on my teeth gradually lessened. Sparkle's website says that its ionic toothbrush is a new innovation from Japan and has become Japan's best selling toothbrush. Anyone with stubborn plaque stains should definitely give it a try. Or if you're just in the market for a new toothbrush, this one is worth a test run.
Source >> https://pantip.com/topic/35175947
Tag: