Toothpaste
Sparkle Double White Lemon Soda
ยาสีฟัน สปาร์คเคิล ดับเบิ้ล ไวท์ เลม่อน โซดา รุ่น Smileyworld
---
SPARKLE จับมือกับ SMILEYWORLD ไลฟ์สไตล์แบรนด์ดังระดับโลกที่เป็นสัญลักษณ์ของความสุขและรอยยิ้มมาร่วมแจกความสดใส ชวนอวดรอยยิ้มฟันขาวสุขภาพดีอย่างมั่นใจไปกับ SPARKLE
Buy Now
Sparkle Double White Lemon Soda Smileyworld Collection
---
This is a special collection of Sparkle x Smileyworld. There's lots more to smile about when it comes to the collection.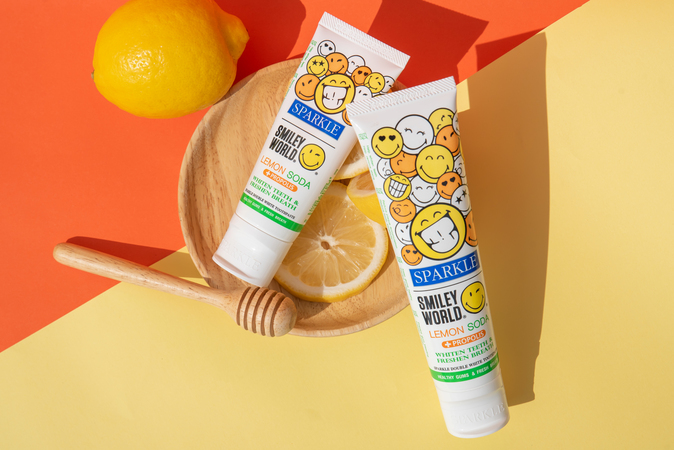 The Sparkle Double White Lemon Soda Toothpaste contains Micro White Silica which will brighten your teeth. This is a technology exclusive to Sparkle, the tiny molecules will help whiten teeth even better. It also helps safely remove plaque without damaging your natural tooth enamel.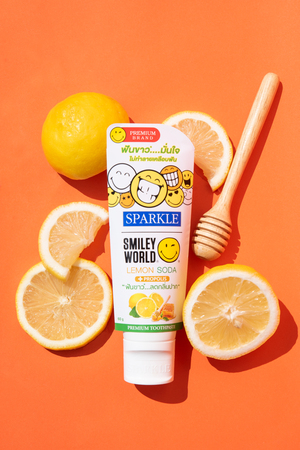 Nano Vitamin C nurtures the foundation of our gums so we can maintain our oral health, protecting our gums against bacteria, which is the cause of bad breath.
Xylitol reduces the risk of bacteria in our oral cavity which will prevent bad breath and cavities
Calcium strengthens and coats our teeth to maintain sturdiness
Propolis extract helps fight oral bacteria that cause bad breath and infections
Lemon soda adds a healthy, cooling effect, making us feel a citrus freshness.